Palera1n Windows Jailbreak For iOS 15 – iOS 16 Without USB [Latest]
FRP FILE has introduced an unofficial Palera1n Windows version of Palera1n jailbreak, making jailbreaking a hassle-free experience. This Palera1n Windows jailbreak version provides a user-friendly interface that takes you through the entire jailbreaking process step by step. Not only does it guide you, but it also takes care of installing the necessary components for tweak injection and the Sileo package manager. If you own a checkm8 device running iOS 15 or iOS 16, Palera1n Windows is your go-to solution.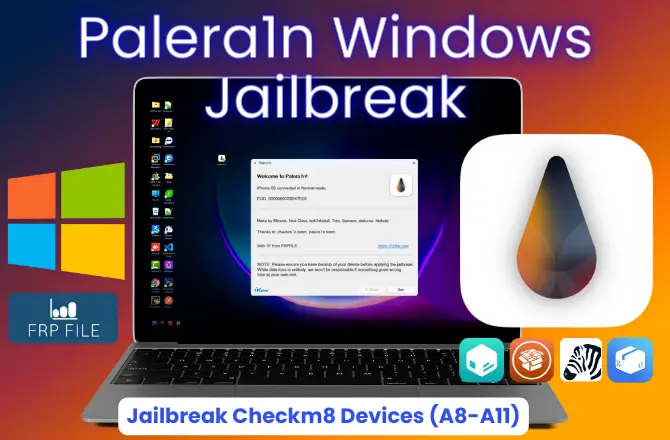 Palera1n Windows FRP FILE Download
Palera1n Windows Jailbreak Supported Devices
Jailbreaking your iOS device can give you more control and customization options. Palera1n Windows is a tool that can jailbreak all devices with A9-A11 chips. This Palera1n jailbreak Windows includes iPhones and iPads from iPhone 6s to iPhone X, and iPad 5th generation to iPad Pro 10.5-inch. The Palera1n Windows download has been tested and verified to work smoothly on these devices. However, it cannot jailbreak devices with A12 or higher chips, such as iPhone XS and newer models.
Palera1n Windows Jailbreak Supported iPhones:
» iPhone 6S, iPhone 6S Plus, and iPhone SE (1st generation)
» iPhone 7 and iPhone 7 Plus
» iPhone 8 and iPhone 8 Plus
» iPhone X
Find Jailbreak Compatibility Easily!
Jailbreak Finder tool lets you enter your device model and iOS version and shows you the available jailbreak tools and methods for your device.
How To Jailbreak iOS 15 – iOS 16.x On Windows With Palera1n Jailbreak
Palera1n Windows is a simple and fast way to jailbreak your iOS device. Make sure you have a Windows 64-bit system with Intel, AMD, or Arm processors. Install the Apple Mobile Device Support directly from Apple servers, avoiding the Windows Store version.
Download Palera1n Windows 1.1 onto your PC. The installation process is straightforward and hassle-free. Palera1n Windows checkm8 jailbreak iOS 16 supports a wide range of iOS versions, from iOS 15 to the latest iOS 16.6.
How To Use Palera1n Windows Jailbreak
Experience the freedom of jailbreaking your iOS device with Palera1n Windows 1.1. Follow these simple steps to get started:
Step 1: Go to the Palera1n Windows link provided at the top of this page.
Step 2: Click the green download button and choose "Download as ZIP."
Step 3: Extract the contents of the Palera1n_1.1.zip file to your Desktop.
Step 4: Install AppleMobileDeviceSupport64.msi.
Step 5: After the installation is complete, restart your Windows PC.
Step 6: Open Palera1n.exe.
Step 7: Use a USB cable to connect your iPhone to your PC.
Step 8: Make sure to disable Find My iPhone in the Settings app on your device.
Step 9: Click on "Start" and follow the on-screen instructions to enter DFU mode on your iPhone.
Step 10: Press the "jailbreak" button to initiate the jailbreak process.
Step 11: Follow the prompts on the screen to boot PongoOS and complete the jailbreak.
Experience the freedom to customize and enhance your iOS device with Palera1n Windows 1.1 – your gateway to a world of possibilities.
💡 Tip: Did you know that you can take advantage of Palera1n Windows on a virtual machine to jailbreak iOS 15 – iOS 16 devices? This smart approach lets you use Palera1n Windows even on macOS or Linux environments. All the necessary drivers are automatically loaded by the jailbreak process, making it convenient and efficient.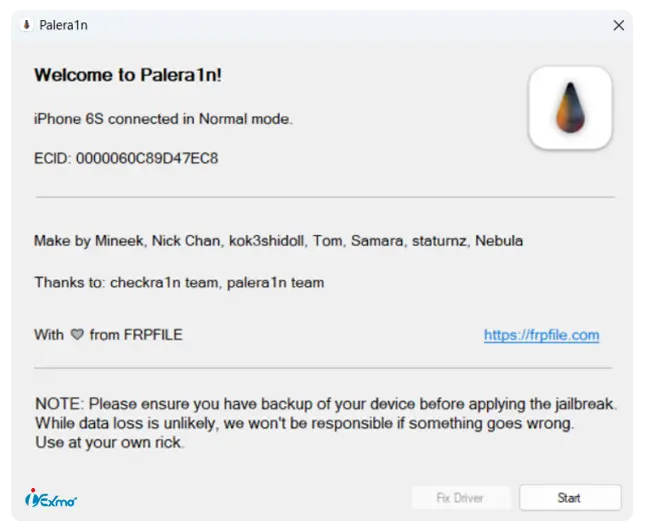 How To Customize Your iOS Device With Palera1n Compatible Tweaks
You need to jailbreak your device using Palera1n. Next, you need to open package managers, such as Cydia, Sileo, Zebra, and Installer app stores for jailbroken devices.
Then, you need to add best Cydia and Sileo sources or repositories that host tweaks compatible with Palera1n.
That's it! You have successfully customized your iOS device with Palera1n compatible tweaks. Enjoy your new look and features!
Palera1n Compatible Tweak List
Simplify Jailbreaking With Palera1n Windows Jailbreak
If you're an iOS enthusiast looking to unlock the full potential of your device, you've likely heard of Palera1n Windows. This innovative tool has revolutionized the world of jailbreaking, offering an avenue to liberate your iOS 15 to checkm8 jailbreak iOS 16 device with the ease and familiarity of a Windows environment. In this comprehensive guide, we'll delve into the details of Palera1n Windows, from its inception to its functionalities, compatibility, and everything in between.
What Is Palera1n Windows?
Palera1n Windows stands as an unofficial release of a well-known jailbreak tool tailored for iOS 15 to iOS 16. What sets it apart is its optimized compatibility with Windows systems. This means that you no longer need to resort to macOS, Linux installations, or USB dongles paired with Palen1x to embark on the jailbreaking journey.
Gone are the days of complex jailbreaking processes. Palera1n Windows checkm8 jailbreak iOS 16 streamlines the entire experience, making it as straightforward as executing the Checkra1n jailbreak process. This opens up a new realm of possibilities for Windows users who seek to harness the potential of their iOS devices.
Bridging the Gap:
Palera1n Windows filled a significant void in the jailbreaking landscape. With the discontinuation of checkra1n for iOS 15, iOS 16, and iOS 17, Palera1n emerged as a game-changer. It effectively provided the means to jailbreak these versions, marking a milestone in iOS customization.
Empowering A9-A11 Devices:
Palera1n Windows isn't just about jailbreaking; it's about empowerment. Designed for A9-A11 devices, Palerain jailbreak Windows has become the go-to solution for installing tweaks and apps that enhance the user experience. Its capabilities go beyond just jailbreaking, making it a versatile tool in the realm of iOS customization.
The Foundation for iCloud Activation Tools:
Palera1n Windows is more than just a jailbreak tool. It serves as the backbone for several prominent iCloud Activation bypass tools catering to iOS 15 and iOS 16. This underlines its significance in the iOS customization community.
Unlocking Windows Jailbreaking Power:
Operating Palera1n Windows is a breeze. Simply connect your device to your Windows PC using a USB cable in DFU mode. This triggers the checkm8 exploit and boots PongoOS from checkra1n. The process is designed to be accessible and efficient.
Considerations for A11 Devices:
For those with A11 devices running iOS 16, a precautionary step is necessary. Erasing all content and settings before jailbreaking ensures a seamless experience. This step is particularly crucial for iPhone 8, iPhone 8 Plus, and iPhone X users.
Not Just an Activation Bypass:
Palera1n Windows isn't designed for iCloud bypass, passcode bypass, or Hello Screen Activation. Its primary function is to jailbreak your device, providing a gateway to customization. Activation can be achieved through third-party software if required.
Temporarily disabling the passcode is a prerequisite for A11 devices. Additionally, certain Secure Enclave Processor (SEP) functions like Face ID/Touch ID and Apple Pay remain inaccessible until a full iOS restore is performed post-jailbreak.
Compatibility and Limitations:
Palera1n Windows leverages the checkm8 exploit, making it compatible with A8 to A11 devices. This covers models from iPhone 5S to iPhone X, excluding models released after the iPhone X.
Before embarking on the jailbreak journey, ensure you have a backup of your device. While the likelihood of data loss is low, it's wise to take precautions. Remember, the process comes with risks.
Employing Palera1n on Windows:
The jailbreaking process commences with entering DFU mode on your iPhone. This crucial step mirrors the familiar workflow of checkra1n, making the transition to Palera1n Windows seamless.
Palera1n Loader: Enhancing Functionality:
Palera1n Windows installs the Palera1n Loader app on your jailbroken device. This app simplifies the installation of essential components, including a bootstrap for restarting Mobile Substrate and Preference Loader. Choose your preferred package manager, such as Sileo or Zebra, via this app.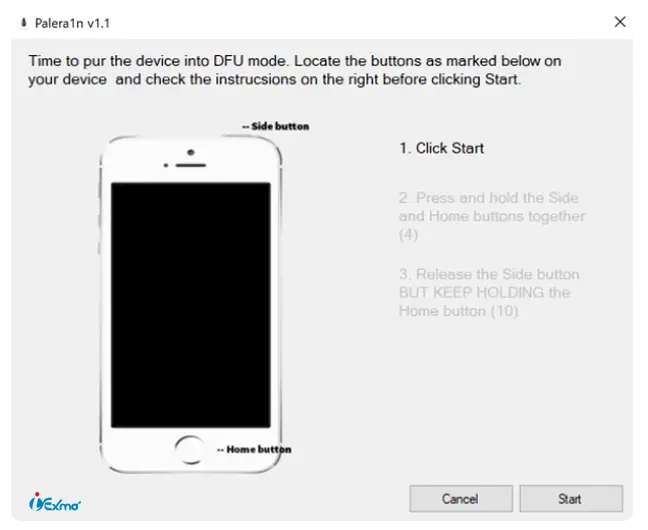 Palera1n Windows Jailbreak Alternatives:
For those seeking alternatives, Palera1n on Windows offers flexibility. You can find alternatives for Palen1x Jailbreak, a renowned Linux LiveCD bundled with the jailbreak tool. Alternatively, WinRa1n Jailbreak seamlessly integrates Checkra1n and Palera1n within a single, native PC application.
Palera1n Windows signifies a new era in iOS 15 to iOS 16 jailbreaking. Its user-friendly interface, compatibility, and powerful functionalities redefine what's possible with your iOS device. Dive into the world of customization and take control of your device's capabilities like never before.
Palera1n Jailbreak For Mac
If you have a Mac computer and want to jailbreak your iOS device using palera1n, you can follow these Palera1n Mac simple steps.
Palera1n For Linux
Palera1n is compatible with Linux operating systems, providing a straightforward method for iOS device jailbreaking on Linux. To utilize Palera1n on Linux and jailbreak your iOS device, adhere to the following Palera1n linux steps.
Palera1n Jailbreak iOS 16
Palera1n jailbreak iOS 16 empowers you to break free from Apple's restrictions and take control of your iOS device's customization. With jailbreak iOS 16 Palera1n support for a wide range of iOS versions including iOS 16, iOS 16.0.1, iOS 16.0.2, iOS 16.0.3, iOS 16.1, iOS 16.1.1, iOS 16.1.2, iOS 16.2, iOS 16.3, iOS 16.3.1, iOS 16.4, iOS 16.4.1, iOS 16.5, iOS 16.5.1, iOS 16.6, Palera1n offers a comprehensive solution. This Palera1n jailbreak iOS 16 powerful tool enables you to install Sileo, a cutting-edge package manager designed for jailbroken devices, granting you access to a world of possibilities.
Palera1n Jailbreak iOS 15
Palera1n jailbreak iOS 15 allows you to break free from the limitations of iOS 15 and customize your device as you wish. Palera1n uses a bootrom exploit called checkm8, which works on all devices with A5 to A11 chips, including the iPhone 13 models. Jailbreak iOS 16 Palera1n is a semi-tethered jailbreak, which means that you need to connect your device to a computer and run the palera1n app every time you reboot your device. Palera1n supports both Windows and Mac operating systems, and it is easy to use.
Best Jailbreak Options For Different iOS Versions And Devices
iRemovalRa1n Jailbreak: Jailbreak iOS 12 to iOS 14.8.1 on A8 to A11 devices using Windows with a native port of checkra1n.
Dopamine Jailbreak: Rootless semi-untethered jailbreak for iOS 15 to iOS 15.4.1 on A12+ devices, based on the Fugu exploit by Linus Henze.
WinRa1n Jailbreak: Windows version of checkra1n for iOS 12 to iOS 16 on A7 to A11 devices, leveraging the checkm8 bootrom exploit.
OpenRa1n Jailbreak: Windows port of palera1n, enabling iOS 14.5 to iOS 16 jailbreak on A12+ devices using the pwn20wnd exploit.
Palera1n-C Jailbreak: C implementation of palera1n, allowing iOS 14.5 to iOS 16 jailbreak on platforms supporting C and libusb.
XinaA15 Jailbreak: Semi-untethered jailbreak for iOS 15 to iOS 15.1.1 on A15 devices, using the XinaA15 exploit by @XinaA15Dev.
Ra1nCloud Jailbreak: iOS 15.0 to iOS 15.4.1 jailbreaking on any device without a computer based on Fugu15 Jailbreak.
Checkra1n Jailbreak: Original jailbreak tool for iOS 12 to iOS 14.8.1 on A7 to A11 devices, utilizing the checkm8 bootrom exploit. Runs on macOS and Linux.
📥 More Latest Jailbreak Tools and Guides
Frequently Asked Questions (FAQs) About Palera1n Jailbreak
What is Palera1n?
Palera1n is a jailbreak designed for checkm8 devices (A8-A11) running iOS 15.0-16.5.1, catering to developers' needs.
Which Platforms Are Supported?
Palera1n supports A8-A11 devices on iOS 15.0-16.5.1 and can be used on macOS or Linux. Windows support is not available at this time.
Is Palera1n Safe?
Like other jailbreaks, Palera1n has its risks. The Palera1n team cannot be held responsible for data loss or bricked devices. Users assume responsibility for any outcomes.
How Do I Jailbreak with Palera1n?
Refer to iExmo Jailbreak guides for step-by-step instructions on using Palera1n.
Can I Use My Tweaks?
Yes, Palera1n supports tweaks compatible with iOS 15-16. However, tweaks designed for iOS 14 and earlier versions may not work reliably.
Can I SSH into My Device?
Yes, similar to checkra1n, Palera1n offers SSH access on boot. SSH is available via USB connection on port 44.
What's New In Palera1n Windows Jailbreak
Jailbreaking process with the improved Palera1n Windows 1.1 update.