iRemovalRa1n (Checkra1n Windows) Tools For iOS Device iOS 12 – iOS 14.8.1 Jailbreak
The iRemovalRa1n developer, who also built the iRemoval PRO app, has now published checkra1n for Windows. Until recently, using a Linux distribution was the only way to jailbreak your iPhone on Windows with checkra1n. This complete guide will walk you through the process of jailbreaking an iPhone on a Windows PC without using a USB.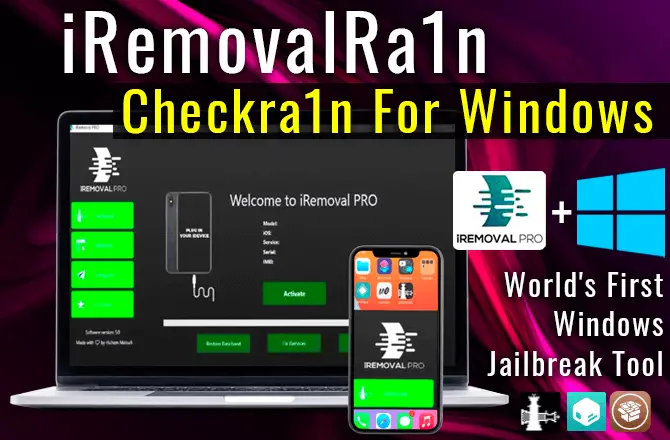 World's First Windows Jailbreak Tool iRemoval PRO
New Checkra1n Jailbreak For Windows PC – iRemoval Pro Jailbreak Download
iRemovalRa1n is a native port of checkra1n that allows Windows users to jailbreak iOS 12 to iOS 14. Download iRemovalRa1n jailbreak, the checkra1n for Windows.
Download iRemovalRa1n (iRa1n v1.8) Install Checkra1n Windows Jailbreak
You must ensure that the checkra1n jailbreak is compatible with your device before beginning the jailbreak procedure.
The checkra1n jailbreak is an equipment jailbreak that is compatible with the iPhone 5 through the iPhone X. Below, you can find a list of every supported iPhone for iRemovalRa1n.
Checkra1n Windows iRemovalra1n Jailbreak Tool Supported Devices
All A5-A11 systems on a chip are supported by the iRemovalRa1n jailbreak (SoC). So many numbers of Apple devices are compatible. By avoiding the BPR check, the checkra1n jailbreak now officially supports A9, A9X, and A10 devices in full, as well as A11 devices in part.
The complete list of iPhones and iPads that are compatible is shown below.
| Supported iPhones | Supported iPads | Supported iPods |
| --- | --- | --- |
| A11 – iPhone 8, iPhone 8 Plus, iPhone X | A10X – iPad Pro 12.9 (2015 / 2017) | iPod Touch 6 |
| A10 – iPhone 7, iPhone Plus | A10 – iPad (2018, 6th gen), iPad (2019, 7th gen) | iPod Touch 7 |
| A9 – iPhone 6S, iPhone 6S Plus, iPhone SE | A9X – iPad Pro (12.9 in.) 1st gen, iPad Pro (9.7 in.) | |
| A8 – iPhone 6, iPhone 6 Plus | A9 – iPad (2017) 5th Gen | |
| A7 – iPhone 5S | A8 – iPad mini 4 | |
| A6 – iPhone 5, iPhone 5C | A7 – iPad Air, iPad Mini 2, iPad Mini 3 | |
| A5 – iPhone 4S | A6X – iPad (4th generation) | |
| | A5X – iPad (3rd generation) | |
| | A5 – iPad 2, iPad Mini 1st gen | |
When the jailbreak for iOS 15 becomes available, Checkra1n will be updated to support iOS 12 through iOS 14.8.1. Also, check that your device and the iOS software are supported by the Checkra1n jailbreak.
iRemoval Pro Windows Tool For GSM iCloud / MEID Devices
Download the windows bypass tool for iRemoval. The iRemoval Pro team introduced this utility in response to user requests for tools for Windows. Using the iRemoval program, you may bypass iCloud and keep your SIM fully functional. Every feature operates perfectly. In order to bypass your iPhone, jailbreak your device first and use this tool to see if it supports SIM cards. If sim support is shown, proceed to the registration section and perform a bypass.
What Is iRemovalRa1n Tool?
The checkra1n for Windows that is included in the iRemoval PRO 5 program is called iRemovalRa1n (iRa1n). This project has the approval of Siguza and other other checkra1n developers, who are also aware of it. Working with iOS 12.0 through iOS 14.8.1 is iRemovalRa1n.
You can jailbreak iPhones running iOS 12 through iOS 14 from the iPhone 5s to the iPhone X using this Windows version of the checkra1n and checkm8 exploit. iRemovalRa1n will add support for the most recent firmware when checkra1n developers allow iOS 15 for jailbreaking.
Due to a flawed kernel driver, checkra1n for Windows wasn't ever officially published. The newest jailbreak for Windows, iRemovalRa1n, uses the same techniques to hack iOS firmware over a USB connection by downloading UsbDK Runtime Libraries.
iRemovalRa1n With Checkra1n For Windows
For macOS and Linux, iRemovalRa1n imitated the appearance of the original checkra1n application. Accordingly, you will know exactly what to assume and how to jailbreak iOS on Windows if you are familiar with the checkra1n interface. The checkm8 vulnerability is the key to this jailbreak.
This continuous, unpatched bootrom exploit was developed by axi0mX, possibly guaranteeing lifetime jailbreak functionality for A5-A11 devices. It indicates that every new iOS version should have a security flaw.
The engine for the Windows tool iRemovalRa1n was derived from the exploit, which was made available as an open-source project. Connect your iPhone, iPad, and Apple TV via an Usb connection (USB-A) to checkra1n for Windows in order to start the Cydia installation process.
iRemovalRa1n Support Windows Versions
Windows 7, Windows 8, Windows 8.1, Windows 10, and Windows 11 – Platforms in 32- and 64-bit versions are supported.
RedHat's UsbDK Runtime Libraries must be installed before using the jailbreak tool (support for Windows 7 – 10).
Checkra1n Windows iRemovalRa1n Jailbreak Tweaks
The jailbreak tool takes advantage of system flaws to install the Cydia app, giving users access to hundreds of new apps and tweaks not found in the official AppStore. The stronger code injection library Substrate, which powers Cydia, is used by iRemovalRa1n as it was in the original project.
Devices Not Supported By iRemovalRa1n Jailbreak Tool
The most recent iPhone models, including the iPhone 13 Mini, iPhone 13, iPhone 13 Pro, iPhone 13 Pro Max, iPhone 12, iPhone 12 Pro, iPhone 12 Mini, iPhone 12 Pro Max, iPhone XR, iPhone XS, iPhone XS Max. iPhone 11 Pro, iPhone 11 and iPhone 11 Pro Max are not compatible with the iRemovalRa1n jailbreak.
iremoval Pro Download For Windows
Step 1 > You need to download and set up iTunes for Windows using the most recent version.
iCloud and iTunes must first be downloaded and installed from the Apple website; if you already have these programs installed from the Microsoft store on your computer, delete them both before downloading.
Step 2 > Install iCloud and iTunes
Install iCloud first, followed by iTunes, then restart your computer once each of these has been downloaded. If you don't restart, you'll soon receive an error stating that one of these is not installed on your computer. Therefore, restart your computer and come back if you recently installed iTunes and iCloud.
Step 3 > iRemoval PRO v5 has now been downloaded and installed on your Windows computer.
Step 4 > Turn off the virus and threat protection in your PC.
You must extract the checkra1n windows iremovalra1n zip file after it has been downloaded on your computer. Please disable your computer's virus and threat protection before extracting the zip file since Windows interprets it as malware.
Step 5 > Open the iRemoval PRO tool after extracting it.
Step 6 > To launch the iRemovalRa1n app, click the jailbreak button.
Step 7 > Using an USB-A cable, connect your iPhone or iPad to your PC.
Step 8 > To jailbreak your device, click start. iRemovalRa1n is now going into recovery mode.
Step 9 > Follow the on-screen instructions to enter DFU mode. The system will be exploited, and checkm8 will boot into jailbreak mode.
Step 10 > Successfully done! You may now access tweaks and apps from repositories by using the Cydia app.
iRemovalra1n Checkra1n Windows Tool Frequently Asked Questions
Is Checkra1n Windows iRemovalra1n Jailbreak real?
Yes, without a doubt. Since iRemoval PRO started releasing projects like this about two years ago, Checkra1n Windows has been achieved in every way.
Does iRemovalra1n jailbreak support iOS 15?
Currently, iOS 12 to 14.8.1 are supported by the Checkra1n Windows iRemovalra1n app. iRemovalra1n tool will work with iOS 15 jailbreak, so we're waiting for Checkra1n developers to enable it for iOS 15 soon.
Will Checkra1n formally release these jailbreak apps?
@ifpdz, the developer of iRemoval PRO, created this program, which will go by the name "iRemovalRaln." The next time, the iRemovalra1n team will work with the Checkra1n team.
Is iRemovalra1n download going to be free or paid?
Everyone can use iRemovalRaln for free.