KFDFontOverwrite IPA Download For iOS Change Fonts Without Jailbreak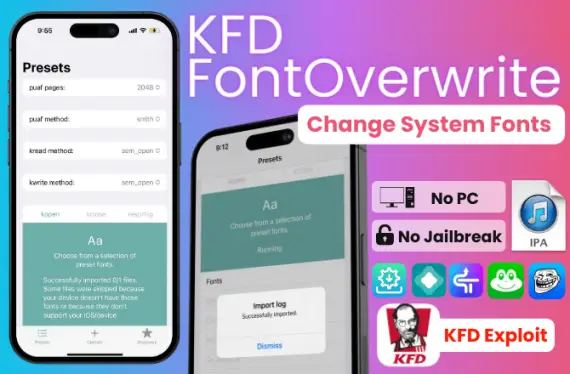 KFDFontOverwrite IPA is a remarkable tool, serving as a KFD port of WDBFontOverwrite, designed to empower iOS users with customization capabilities on versions ranging from iOS 15 to iOS 16.6.
Utilizing the KFD exploit, KFDFontOverwrite IPA brings functionalities similar to overwrite fonts, WDBFontOverwrite IPA, which was one of the pioneering tools to leverage the MacDirtyCow exploit. The newly introduced KFDFontOverwrite jailed application to overwrite fonts supports iOS versions 15 to 16.5 and iOS 16.6 beta 1, specifically A12+ devices and is fine-tuned to work seamlessly with the latest iOS releases.
Download KFDFontOverwrite IPA For iOS 15 – iOS 16 [Latest Update]
How To Install KFDFontOverwrite IPA File
KFDFontOverwrite is a powerful IPA package that offers users the ability to customize their iOS devices running on versions 16.5 and below. Compatible with iOS 15 to iOS 16, this free tool can be easily sideloaded using your preferred method.
For those seeking an alternative installation option, KFDFontOverwrite can also be installed using TrollStore on compatible iOS devices and firmware versions, providing even more flexibility in customizing your iOS experience.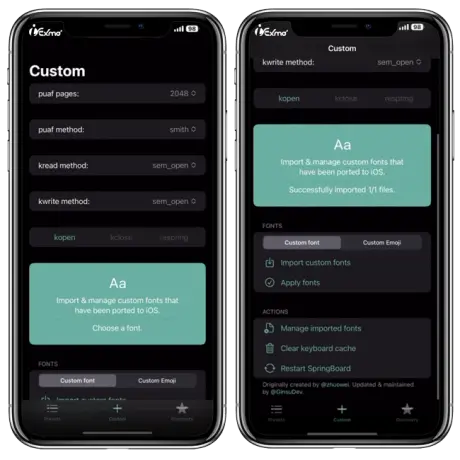 How To Install KFDFontOverwrite IPA Using Sideloadly
Step 1: Download the KFDFontOverwrite IPA file by clicking the link at the top of this page.
Step 2: Open the Sideloadly application on your computer.
Step 3: Connect your iPhone or iPad to the computer using a USB cable.
Step 4: In Sideloadly, click on the IPA icon and select the KFDFontOverwrite app for installation.
Step 5: Sign the KFDFontOverwrite IPA file with your Apple ID to proceed.
Step 6: Click the "Start" button to begin the installation of KFDFontOverwrite on your iOS device.
Step 7: Enter your Apple ID password when prompted.
Step 8: Once installed, locate the Settings app on your home screen.
Step 9: Navigate to General > VPN & Device Management.
Step 10: Look for the developer app associated with your email.
Step 11: Tap "Trust" to grant permission for the KFDFontOverwrite application to run.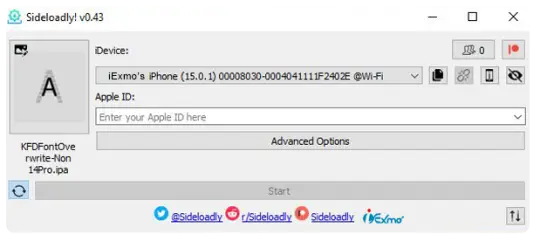 How To Install KFDFontOverwrite IPA Using AltStore
Learn how to install KFDFontOverwrite on your iOS device using AltStore, a reliable method for sideloading apps without the need for jailbreaking. Follow this step-by-step guide to enjoy the features of KFDFontOverwrite IPA hassle-free.
Step 1: Install AltStore on your iOS device.
Step 2: Download the latest KFDFontOverwrite IPA file.
Step 3: Launch AltStore and go to the "My Apps" tab.
Step 4: Tap the plus "+" icon and select the downloaded KFDFontOverwrite IPA file.
Step 5: Enter your Apple ID and password (use a disposable account if preferred).
Step 6: The KFDFontOverwrite IPA app will install, and you can open it from "My Apps" or the Home screen.
Step 7: Remember to re-sign KFDFontOverwrite every 7 days from the "My Apps" tab to keep it active.
How To Install KFDFontOverwrite IPA Without A Computer Using TrollStore
Learn how to install KFDFontOverwrite IPA on your iOS 14 and iOS 15 devices hassle-free, using TrollStore, a reliable and free IPA Installer application. Enjoy the feature-rich torrent client without worrying about app revocation on iOS.
Step 1: Install TrollStore on your iOS device [Running firmware between iOS 14 and iOS 15.4.1]
Step 2: Download the KFDFontOverwrite IPA and save it to your iCloud storage.
Step 3: Share the downloaded KFDFontOverwrite IPA file with TrollStore using the built-in sharing feature.
Step 4: TrollStore will handle the installation process automatically once the KFDFontOverwrite IPA file is loaded.
Step 5: Once the installation is complete, you can access the KFDFontOverwrite app directly from your Home Screen.
Bullfrog Assistant is an iOS app that enables you to sign KFDFontOverwrite IPA files directly on your device without the need for a PC. The Bullfrog Assistant app utilizes the free Apple certificate to sign the IPA files, making it a cost-effective solution for IPA installation.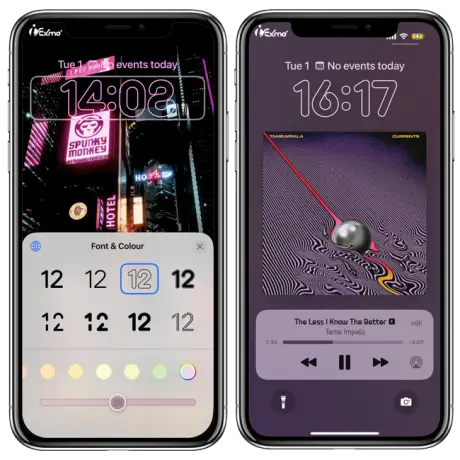 KFDFontOverwrite Compatibility and Device Considerations:
While KFDFontOverwrite supports all A12 and newer devices, users should be aware that the exploit's effectiveness may vary depending on the specific device and firmware version. To ensure optimal results, it's essential to obtain the appropriate offset for the respective iDevice. The community actively engages in discovering offsets, but this process may take time. Users are advised to stay informed about updates to achieve the best outcomes on their devices.
Knowing the Limits: Incompatible iOS Versions:
It is crucial for users to understand that the KFD exploit is not compatible with iOS versions 16.5.1 and 16.6, as well as any potential future firmware releases that include fixes for the exploit. Attempting to apply the KFD exploit on these unsupported iOS versions will not yield desired results and may lead to complications. Users are encouraged to exercise caution and exclusively apply the exploit on compatible iOS versions.
Font Customization across iOS System Elements:
KFDFontOverwrite offers a remarkable ability to modify fonts in various aspects of the iOS system, including Settings, apps, and web browsers. However, it's important to note that this font changing does not apply globally across the entire system. The latest release of KFDFontOverwrite introduces a significant addition, empowering users to import custom fonts such as SFUI.ttf, emoji font, and PingFang.ttc, greatly expanding the possibilities for font personalization.
KFDFontOverwrite is a powerful font-changing tool that brings exciting font customization capabilities to iOS users. With its foundation built on the KFD exploit, users can effortlessly replace system fonts and personalize their iOS experience. While remaining mindful of device compatibility and iOS version limitations, users can leverage KFDFontOverwrite to enhance the visual appeal of their devices and create a unique and engaging iOS environment.
Best KFDFontOverwrite Alternatives For iOS Font Customization
If you're looking to change system fonts on iOS 16.1.2 and below, you might have heard of KFDFontOverwrite IPA. However, there are other excellent font customization options available as alternatives. In this article, we'll explore some top-notch alternatives to KFDFontOverwrite that cater to iOS 13 through iOS 16 devices, including the latest jailbreak releases. Let's dive in!
WDBFontOverwrite – The Original Font Changing Tool:
For those on iOS 16.1.2 and below, WDBFontOverwrite remains a reliable option. It was the first tool to utilize the Dirty Cow kernel exploit for iOS devices, offering stable performance on A12+ devices. While KFDFontOverwrite might be the popular choice, WDBFontOverwrite is still a solid alternative for those who prefer to stick with the original.
A-Font – The Ultimate Font Tweak:
A-Font is a game-changer for users with jailbroken devices running iOS 13 through iOS 16. With a simple tap, A-Font empowers users to effortlessly modify system fonts. This straightforward tool is a superior solution for those seeking a more convenient way to customize their iOS fonts.
Who Created KFDFontOverwrite IPA?
KFDFontOverwrite IPA is the creation of the talented developer hrtowii. With ingenuity and dedication, hrtowii crafted KFDFontOverwrite to empower iOS users with customization capabilities.
KFDFontOverwrite GitHub Source Code
KFDFontOverwrite is a powerful iOS customization tool that embraces the open-source philosophy, making its code accessible on GitHub. This inclusive approach encourages developers and enthusiasts to explore, evaluate, and enhance the codebase, fostering a dynamic community of innovation and progress.
What's New In KFDFontOverwrite 
KFDFontOverwrite Version v2.2.0 Update
Fonts will now be disabled if KFDFontOverwrite is not kopened, ensuring smoother font application.
Addressed and resolved font-related issues specific to iPhone Xr.
Fixed font-related problems for iPhone 11 Pro and iPhone 11 Pro Max.
Resolved font compatibility issues on iPhone 14 Pro and iPhone 14 Pro Max.
Fixed font-related glitches for iPhone 14 and iPhone 14 Plus.
Addressed font compatibility problems for iPhone 11 on iOS 16.5 and iOS 16.6 Beta 1.
Added support for iPad with M1 chip on iOS 16.4.1 and iOS 16.6 Beta 1.
Included support for iPad Air 5th Gen on iOS 16.6 Beta 1.
KFDFontOverwrite Version 2.1.0 Update
Added support for new devices and firmware versions.
iPhone XS to iPhone 14 Pro Max running iOS 16.2 – 16.5.
iPhone SE (2022) and iPhone Xr on iOS 16.6b1.
Enhanced device compatibility, offering a broader range of supported devices.
Improved stability and performance for a smoother font customization experience.
Bug fixes and optimizations for a seamless user experience.