WDBFontOverwrite IPA For Change Fonts And LockScreen Clock Fonts Without Jailbreak | MacDirtyCow Tool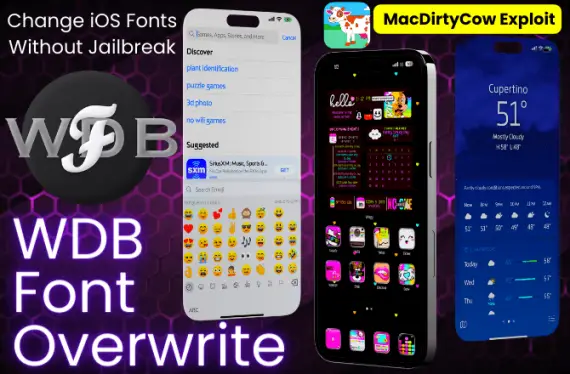 The WDBFontOverwrite IPA for iOS is a new jailbreak method that utilizes the Dirty Cow exploit. One of the most sought after features among jailbreak enthusiasts is the ability to change the fonts on their device. Thanks to MacDirtyCow jailbreaking, users can now set any font they desire on their iPhone or iPad. The WDBFontOverwrite exploit has recently been updated to support changing system fonts on iOS 15 to iOS 16. This new MacDirtyCow exploit allows users to customize their device in ways that were previously not possible, making it an exciting addition to the jailbreak community. With WDBFontOverwrite IPA, jailbreak enthusiasts can personalize their device and make it truly their own.
Download WDBFontOverwrite IPA For iOS
🚀 How To Change Clock Font On iPhone »
DirtyCow (DC) Jailbreak Tweaks Apps
DirtyCow jailbreak app collection is the key to unlocking endless customization options for your iOS device. Get it now and experience a whole new jailbreak world of possibilities.
🚀 DirtyCow Customization Apps »
How To Download WDBFontOverwrite IPA Via TrollStore
One of the ways to install the WDBFontOverwrite IPA app is by using TrollStore. This method is simple and straightforward, and it's designed for devices that are compatible with the app and running on the correct iOS firmware versions.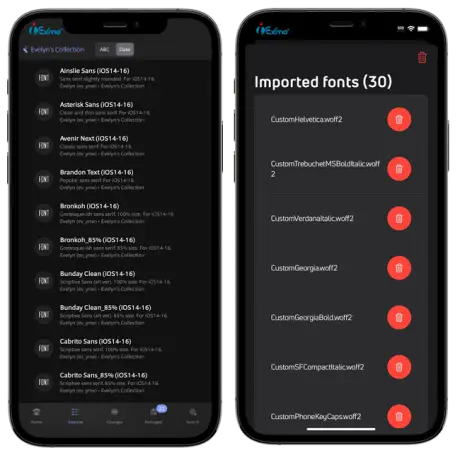 Step 1 > Get the TrollStore IPA Installer on your iOS device.
Step 2 > Download the WDBFontOverwrite IPA file and save it to your device.
Step 3 > Now share the WDBFontOverwrite IPA file you downloaded with the TrollStore IPA Installer.
Step 4 > Tap the WDBFontOverwrite install button.
Step 5 > TrollStore IPA Installer will automatically detect the WDBFontOverwrite IPA file and begin installing it on your device.
Step 6 > The WDBFontOverwrite app will now be installed and can be accessed from your home screen.
How To Download WDBFontOverwrite IPA Via Sideloadly
The WDBFontOverwrite jailbreak tweak offers users the ability to change the fonts on their device. Normally, this is not possible without jailbreaking, but this WDBFontOverwrite IPA tweak makes it possible for users to personalize their device. The WDBFontOverwrite tweak is available as a free IPA package, which can be installed on devices running iOS 16.1.2 and below, the WDBFontOverwrite app can be sideloaded using different tools. It has been extensively tested on different iOS versions and has been found to work well on iOS 15 – iOS 15.7.2.
Step 1 > First, download the Sideloadly application.
Step 2 > Next, download the WDBFontOverwrite IPA file from above.
Step 3 > Open the Sideloadly application and connect your iOS device to your PC using a USB cable.
Step 3 > Drag and drop the WDBFontOverwrite IPA file > Click on the "install" button.
Step 4 > Sideloadly will now begin installing the WDBFontOverwrite IPA file on your device. This process may take a few minutes to complete.
Step 5 > Once the installation is complete, you should see the WDBFontOverwrite app on your home screen.
Step 6 > Go to the device settings > general > device management, there you will be able to see the profile of the app you just installed. Tap on the profile of the app and select trust.
Step 7 > Your WDBFontOverwrite app is now installed and ready to use.
Once a new font has been applied using the WDBFontOverwrite software, there is no option to restore the standard system font. Change the stock font file in /System/Library/Fonts/CoreUI/SFUI.ttf and restart your device if you want to undo all changes toward the system fonts.
Bullfrog Assistant is a handy app for those who want to install WDBFontOverwrite IPA files without access to a PC. This app can help you sign IPA files directly on your iOS device, using a free Apple certificate. This makes it an excellent alternative to Sideloadly and AltStore as you don't need a computer to use it. With this app, you have the freedom to install IPA files right on your iPhone or iPad, no PC required.
How To Import Custom Fonts For WDBFontOverwrite
You can set any font you like on your iPhone or iPad using WDBFontOverwrite MacDirtyCow jailbreak exploit. With the WDBFontOverwrite app installed, you can easily select and download a font style of your choice and load it into the app by following these simple step
Step 1 > Download the WDBFontOverwrite app
Step 2 > Once the app is downloaded, select a font from the available options. You can choose from 18 fonts or Unicode 14.0 fonts.
Step 3 > Open the WDBFontOverwrite app after the font has been downloaded
Step 4 > Look for the "Import Custom SFUI.ttf" option within the app and tap on it.
Step 5 > From your iCloud, pick the downloaded font.
Step 6 > Press the "Custom SFUI.ttf" button to load the custom font into the WDBFontOverwrite app.
SFUISoft Clock Font Collection For iOS 15 And 16 Devices
WDBFontOverwrite jailbreak tweak that allows changing the lock screen clock font (SFUISoft.ttc). Developed by iOS developer YangJiii, this lock screen clock font supports iOS 15 and 16 devices, making it a perfect solution for users who want to customize their device. The app comes with an amazing clock font that can add a personal touch to your device's lock screen. By overwriting the lock screen clock font, you will be able to enjoy a more personalized and unique look on your device.
Benefits of using Lock Screen clock fonts with WDBFontOverwrite app are numerous, it will not only make your lock screen look more elegant but also easy to read for you, furthermore it gives you an option to stand out from the crowd with a personalized look of your device. This jailbreak tweak also supports many other system fonts, giving you the flexibility to change the look and feel of your device to match your preferences.

Download Cool Clock Fonts For Lock Screen
This collection of lock screen clock fonts is updated frequently. The.zip file contains images that you can download and view.

How To Change Clock Font On iPhone Using WDBFontOverwrite
Step 1 > Download the Zip File and unzip it.
Step 2 > Open the WDBFontOverwrite app from your Home screen.
Step 3 > Tap on Custom.
Step 4 > Go to Import Custom fonts.
Step 5 > Go to the unzipped lock screen clock fonts folder > Select SFUISoft.ttc file.
Step 6> After successfully imported > Then Tap Apply fonts.
Step 7 > Now tap the Restart SpringBoard.
Step 8 > Cool! Now you can see the clock fonts from your Lock screen.
TrollLock Reborn For Change Lock Screen's Face ID glyph
A new add-on called TrollLock Reborn would be interesting to investigate for anyone wishing to give your iPhone a distinctive style. Based on the MacDirtyCow exploit, this app was created by iOS developers @haxi0sm and @dedbeddedbed and enables users to customize their iPhone's lock screen in novel and exciting ways.
It's like giving your iPhone a new look of personality as a way to make it uniquely yours. You can stand out from the crowd with TrollLock Reborn MacDirtyCow personalization for your lock screen. There are countless customization options with TrollLock Reborn, including changing the typeface, color scheme, and even adding an image.
The Best Font For Stock Ones In WDBFontOverwrite
WDBFontOverwrite Fonts included:
DejaVu Sans Condensed
DejaVu Serif
DejaVu Sans Mono
Go Regular
Go Mono
Fira Sans
Segoe UI
Comic Sans MS
Choco Cooky Plus, you can import fonts that were made specifically for iOS.
Meloso Font For iOS 14 – iOS 16
Meloso is a font created by iOS developer Alexman that offers a unique, playful and organic feel with its own charming, hand-drawn character. The font is compatible with iOS 14-16 and can be easily installed on your device to give your interface a fresh and distinctive look. Meloso font is a great choice for anyone who wants to add some personality and whimsy to their iOS experience.
What Is WDBFontOverwrite For iOS?
WDBFontOverwrite is a unique tool that uses the latest Dirty Cow kernel exploit for iOS devices. Using the CVE-2022-46689, this WDBFontOverwrite tool is able to make changes to the system fonts on iOS devices running iOS 16.1.2 and below.
One of the great things about WDBFontOverwrite is that it allows you to change your device's font without the need for a jailbreak. This is a big deal for users who want to customize their device but don't want to risk voiding their warranty or losing access to some features.
Dirty Cow is a proof of concept that sets a new precedent for what is possible on iOS. Hopefully, other developers will take inspiration from this WDBFontOverwrite tool and create amazing tweaks and apps that use the same exploit in the future.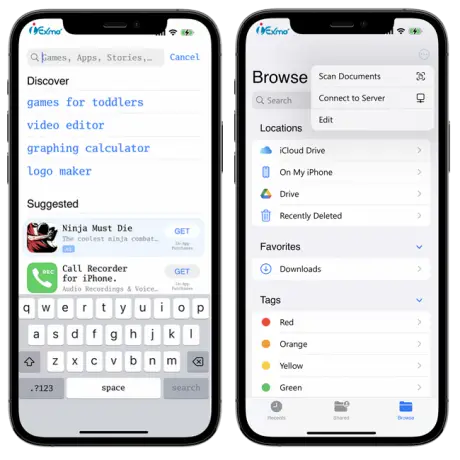 The kernel's memory system's handling of the copy-on-write (Dirty Cow) breakage of private, read-only memory mappings has been found to have a security flaw. This issue may allow an unprivileged local user to obtain write access to memory mappings that are normally read-only.
Installing the A-Font tweak is a more practical way to change the system fonts on iOS if your device is jailbroken. With only one swipe, users of iOS 13 through iOS 15 can change the system fonts. Importantly, it supported the most recent version of the rootless XinaA15 jailbreak for iOS 15.
The fact that WDBFontOverwrite is a proof-of-concept tool makes it vital to mention that it shouldn't be used with the rootlets XinaA15 jailbreak for iOS 15.0 to iOS 15.1.1. This tool is simply designed to be used as a proof of concept and is not intended to replace every font in the system.
Who Developed WDBFontOverwrite?
It's fantastic to see that programmers are exploring with the Dirty Cow exploit (CVE-2022-46689), which was detected by Google Project Zero's Ian Beer. The creator of WDBFontOverwrite, Zhuowei, has developed a novel strategy to get around the exploit's drawbacks.
By compressing the fonts, the Zhuowei WDBFontOverwrite creator employed a brilliant method that allowed for the overwriting of 16383 out of every 16384 bytes. This proof of concept offers an intriguing glimpse into the potential of the exploit. Visit the GitHub page for further details if you're interested in knowing more about the technical aspects of WDBFontOverwrite.
WDBFontOverwrite Source Code
WDBFontOverwrite is an open-source tool that enables users to change the fonts on their iOS 15 – iOS 16 devices without jailbreaking them. The tool and its source code are available for download from the official GitHub repository. It has been created using Swift, C and Objective-C, three of the most commonly used programming languages for iOS development. By making the source code available, it allows developers to understand how the exploit works, modify the tool and use it for different purposes. WDBFontOverwrite offers an alternative for those looking to customize their device without the need for a jailbreak.
What's New In WDBFontOverwrite?
WDBFontOverwrite v1.10.6
The option to clear the keyboard cache was added. Apply keyboard fonts before using this.
WDBFontOverwrite v1.10.5
iOS 14 fixes the crash on launch issue.
WDBFontOverwrite v1.10.4
Make use of Ian Beer's 16k write fix.
padding 16k.woff/.ttc has been removed.
Error handling was improved by removing "Import with fix for.ttc."
After installing fonts, the page will now display a log.
WDBFontOverwrite v1.10.3
Bug-fixed version of ttcpad.
Clear out the UI.
WDBFontOverwrite v1.10.2
Updated a font discovery page with connections to PoomSmart, ev ynw, and Alexman1979's fonts and emoji.
Regression in woff2 file import has to be fixed.
Only allow the importation of.ttc,.ttf, and.woff2 files.
Enhancements to concurrency.
WDBFontOverwrite v1.10.1
The progress bar becomes improved.
Fixing a font application crash.
WDBFontOverwrite v1.10.0
Apply fonts in batch import.
You can see and delete the imported fonts.
Enable font overwriting for all iOS 16 LS, any languages, etc.
WDBFontOverwrite v1.9.1
An issue that prevented files from being selected on some devices has been fixed.
Reset the document picker implementation to its previous state.
An issue that caused the document picker to deallocate while being used has been fixed.
WDBFontOverwrite v1.9.0
Support for changing the Lock Screen clock fonts (SFUISoft.ttc)
A custom font wheel picker was added, which uses a lot less space than a list that is 2 km long.
Code for the document picker was updated.
Better notices and warnings have been added all over the app.