Medusa Jailbreak Tweak: Brings iPad Multitasking To iPhones iOS 15 – iOS 16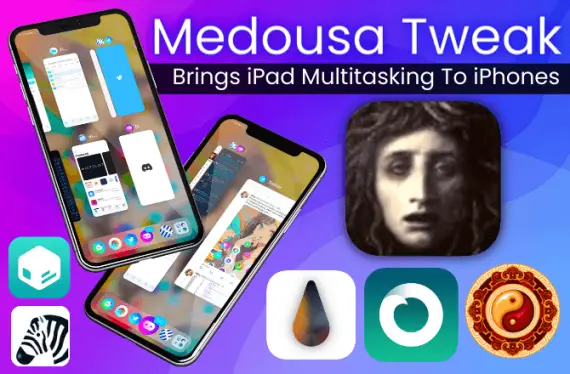 Enable iPad style multitasking on your jailbroken iPhones with the innovative Medousa tweak. While Apple has been cautious in altering iPhone multitasking to preserve the unique appeal of iPads, the jailbreak community presents a compelling solution. Medousa tweak iOS brings a seamless and advanced multitasking experience to iOS 15 – iOS 16, allowing you to maximize productivity and efficiency on your device. Upgrade your iPhone's multitasking capabilities today with Medousa multitasking tweak and enjoy a whole new level of performance and functionality!
Medousa Tweak: Elevate Your iPhone Multitasking 📱
Medousa Multitasking Tweak Key Features
🔄 Unlock Advanced Multitasking: Medousa tweak, a remarkable free tweak, empowers you to unleash powerful multitasking capabilities on your iPhone. Experience a heightened level of productivity and explore new possibilities.
📱 iPad-Style Multitasking: With Medousa jailbreak tweak, bridge the gap between iPhones and iPads by bringing the iPad iOS multitasking iPhone experience to your iOS devices.
🔒 Compatibility: Designed to work seamlessly in both rootful and rootless environments, Medousa supports palera1n and XinaA15 jailbreaks for iOS 15 and iOS 16.
➕ Seamless Integration: After installation, Medousa tweak iOS seamlessly integrates into your Home Screen, enabling simultaneous usage of multiple apps. Effortlessly switch between tasks and enjoy enhanced efficiency.
📜 Versatile Modes: Medousa tweak offers Slide Over and Split View modes, allowing you to overlay app interfaces on top of others and display two apps side-by-side for better multitasking.
📊 App Switcher Integration: Manage your opened apps, Split View workspaces, and Slide Over windows with ease in the App Switcher. Similar to iPadOS, this feature optimizes app organization.
⚙️ Future Medousa Pro: Exciting plans await as uz.ra unveils Medousa Pro tweak, a premium package with advanced features and customization options for precise control over the tweak's behavior.
Embrace the power of iPad-style multitasking on your iPhone and maximize productivity like never before.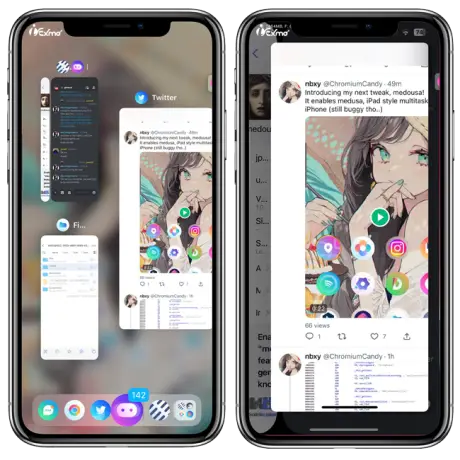 How To Install Medousa Tweak Repository
Medousa tweak is a new and exciting tweak designed for iOS 15 and iOS 16 devices. It was released as a free package and is available for download from a private repository.
To get this Medousa tweak on your jailbroken device, simply add the Medousa Repo to your package manager and install the tweak seamlessly.
What makes Medousa even better is that Medousa tweak caters to both rootless and non-rootless jailbreaks, offering compatibility for a wide range of jailbroken devices.
If you're using the Dopamine jailbreak, you're in luck, as Medousa tweak supports this jailbreak starting from version 1.1.
To get your hands on Medousa jailbreak tweak, head over to the UZ-RA repository. Adding this repo to your favorite package manager allows you to easily search for Medousa and install it with just a few taps.
To install the Medousa tweak app multitasking iPhone, follow the simple steps below:
Step 1: Open your preferred package manager, such as Sileo, Zebra, or any other you like.
Step 2: Navigate to the Sources tab and tap on the Edit button.
Step 3: Add the following repository:
Medousa Repo URL – https://uz-ra.github.io
Step 4: Once the repo is added, use the search function within the package manager to find the Medousa tweak.
Step 5: Tap on the Medousa jailbreak tweak and proceed to install it on your device.
Step 6: After installation, perform a respring of your device to apply the changes.
That's it! The Medousa tweak does not require any additional settings adjustments. You can now enjoy its features hassle-free!
What Is Medousa Tweak?
Medousa jailbreak tweak is a game-changing free tweak that revolutionizes multitasking on iOS devices. With Medousa tweak, you can explore new possibilities and unleash the true potential of multitasking on your iPhone. This remarkable jailbreak tweak brings the iPad multitasking experience to iPhones, allowing you to seamlessly switch between tasks and apps with ease.
Designed to seamlessly integrate into both rootful and rootless environments, this free jailbreak Medousa tweak is currently compatible with palera1n and XinaA15 jailbreaks. Excitingly, Medousa is now also supported on Dopamine jailbreak for iOS 15.
After installation, Medousa tweak iOS split screen multitasking iPhone seamlessly enhances your Home Screen, empowering you to simultaneously use multiple apps with ease.
Switching between tasks becomes effortless, thanks to the coveted iPad-style App Switcher, which also allows you to overlay app interfaces atop others.
Keep in mind that Medousa tweak is fully compatible with both rootless and rootful iOS 15 and iOS 16 devices. The developers are diligently working on integrating this modern jailbreak. For now, users can comfortably utilize Medousa with Dopamine Jailbreak, Palera1n Jailbreak and XinaA15 Jailbreak.
With Medousa tweak iOS, multitasking on your iPhone becomes effortless. Supported apps can be utilized in various modes to cater to your needs. Slide Over presents apps in a compact floating window that you can easily drag to either side of your screen.
In Split View, two apps run side-by-side, optimizing your multitasking experience. Resizing the app sizes is a breeze with a simple drag-and-slide feature, while PiP (Picture-in-Picture) mode allows apps to float on your screen as you work with other apps.
Furthermore, Medousa tweak enriches your App Switcher, displaying all open apps, Split View workspaces, and Slide Over windows. This Medousa tweak repo streamlined functionality, akin to iPadOS, makes managing opened apps even more efficient. Now, this feature is available on Medousa iOS 15 to Medousa iOS 16.
To activate Medousa's multitasking prowess on iOS 15 and iOS 16, open the App Switcher and move an app window inside another app window. This triggers a seamless multitasking experience, elevating your productivity.
Medousa tweak proves to be an excellent alternative to other multitasking tweaks for iPhones. It boasts features comparable to popular tweaks like FloatingDockPlus13, Zetsu, Little12, Pullover Pro, and MilkyWay. For Dopamine jailbreak users, consider Zetsu tweak and MilkyWay4 tweak as suitable options.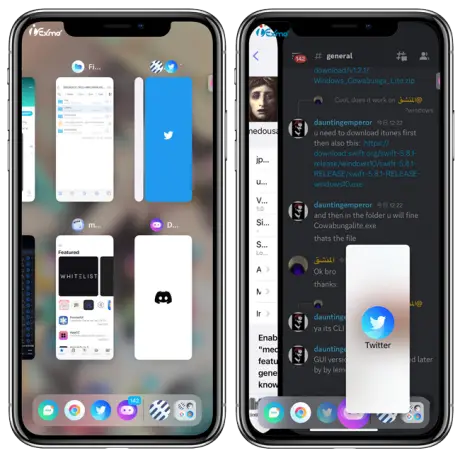 Medousa Pro: Take Your iOS Multitasking To The Next Level!
Uz.ra (@ChromiumCandy), the brilliant developer who brought us the Medousa multitasking tweak for iOS 15 and iOS 16. Now, uz.ra is all set to unveil Medousa Pro, an enhanced version packed with exciting features.
Medousa Pro tweak will be available as a premium package, offering users a wide range of advanced capabilities and extensive customization options. With this powerful tweak, you can now take precise control over multitasking behavior, enhancing productivity like never before.
Get ready to elevate your iOS multitasking experience to new heights with Medousa Pro. Stay tuned for its release and prepare to explore a whole new level of multitasking possibilities.
What's New Medousa Tweak
Updated Medousa to version 1.1.
Medousa has been updated to version 1.1, bringing exciting new improvements and enhancements.
The Medousa iOS tweak now fully supports the Dopamine Jailbreak, expanding its compatibility to a wider range of iOS users.
Various bug fixes have been implemented, ensuring a smoother and more stable experience for users.
Tested on multiple platforms, including iOS 15.1 XinaA12 Jailbreak, Palera1n rootless Jailbreak, and Palera1n rootful Jailbreak, to ensure optimal performance.