Posi0nKFD IPA Download For iPhone KFD Tweaks No Jailbreak [Latest]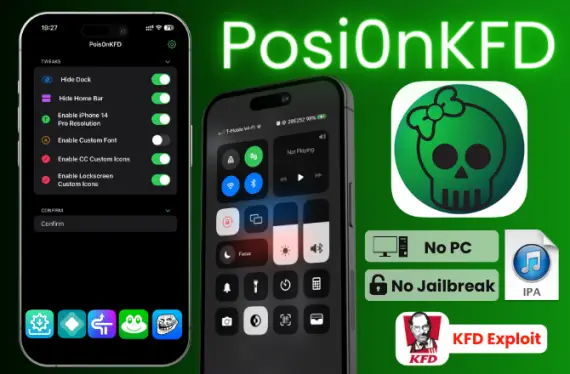 Posi0nKFD IPA is an innovative proof of concept tool that is actively being developed, providing a groundbreaking solution for KFD tweaking on non-jailbroken iOS devices.
With the Posi0nKFD IPA file, you can now easily modify certain hidden system settings on iOS 16 without the necessity of a jailbroken environment, thanks to its powerful KFD exploit support.
Download Posi0nKFD IPA For iOS 16 On A12 – A16 iDevices
Posi0nKFD IPA – Customize Your iOS Device Without Jailbreak
Posi0nKFD App Features
🔒 Hide Dock and Home Bar to maximize screen space.
📱 Enable iPhone 14 Pro resolution for a sharper display.
🎨 Customize your iOS device with your favorite fonts.
🚀 Empower Control Center with custom icons for personalized access.
🔒 Add custom icons to Lock Screen for a unique look and feel and more.
Download latest KFD Exploit IPAs For iOS 15.5 – iOS 16.5
Explore the updated KFD jailbreak exploit IPAs for iPhone, offering tweaks compatible with A12 to A16 devices without jailbreak.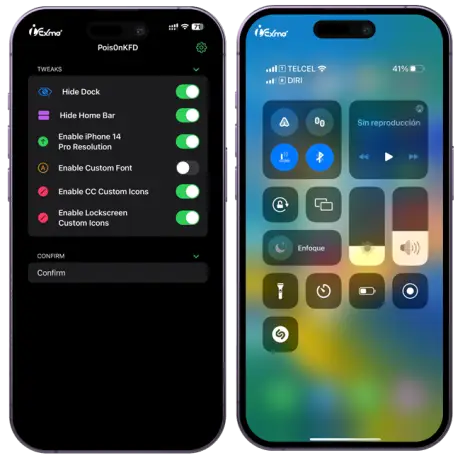 How To Download Posi0nKFD IPA – Customize Your iOS Device Easily
Get the free Posi0nKFD IPA package and explore its powerful customization features on iOS 16.5 and below. Follow the step-by-step guide to install Posi0nKFD on your compatible devices and start tweaking your iOS experience.
How To Install Posi0nKFD IPA With Sideloadly
Step 1: Download the free Posi0nKFD IPA package from the link provided.
Step 2: Use Sideloadly on your computer and connect your iPhone/iPad via USB.
Step 3: Select the Posi0nKFD app in Sideloadly app and click "Install."
Step 4: Sign the IPA file using your Apple ID.
Step 5: Start the installation by clicking "Start."
Step 6: Enter your Apple ID password when prompted.
Step 7: Open the Settings app on your device.
Step 8: Go to General > VPN & Device Management.
Step 9: Tap on the developer app linked to your email.
Step 10: Trust the app to allow it to run on your device.
How To Install Posi0nKFD IPA With AltStore
Discover how to effortlessly install Posi0nKFD on your iOS device using AltStore, a secure method for sideloading apps without jailbreaking. This step-by-step guide will walk you through the process, enabling you to experience all the exciting features of Posi0nKFD IPA with ease.
Step 1: Download and install AltStore on your iOS device.
Step 2: Download the latest Posi0nKFD IPA file.
Step 3: Launch AltStore and navigate to the "My Apps" tab.
Step 4: Tap the plus "+" icon and select the downloaded Posi0nKFD IPA file.
Step 5: Enter your Apple ID and password (consider using a disposable account for added security).
Step 6: The Posi0nKFD IPA app will now install, and you can access it from either the "My Apps" section or your Home screen.
Step 7: Don't forget to re-sign Posi0nKFD every 7 days through the "My Apps" tab to ensure its continued functionality.
How To Install Posi0nKFD IPA With TrollStore – No PC
Discover how to easily install Posi0nKFD IPA on your iOS 14 and iOS 15 devices using TrollStore, a reliable and free IPA Installer application. Embrace the feature-rich torrent client without concerns about app revocation on iOS.
Step 1: Ensure your device runs iOS 14 to 15.4.1 and install TrollStore.
Step 2: Download the most recent Posi0nKFD IPA and save it securely in your iCloud storage.
Step 3: Share the Posi0nKFD IPA with TrollStore using the built-in sharing feature for seamless installation.
Step 4: Allow TrollStore to handle the installation process with precision and accuracy.
Step 5: Access Posi0nKFD directly from your Home Screen and embrace its extraordinary capabilities.
Bullfrog Assistant – Sign Posi0nKFD IPA Directly on Your iOS Device
Empower yourself with Bullfrog Assistant, the iOS app enabling you to directly sign Posi0nKFD IPA files on your device, eliminating the need for a PC. Embrace the cost-effective and efficient solution for IPA installation with the Bullfrog Assistant utilizing the free Apple certificate.
Posi0nKFD iOS Compatibility: Install On Your Preferred iOS Version And Device
Posi0nKFD IPA iOS & iPadOS Compatibility:
➤ iOS 16.0, 16.0.1, 16.0.2, 16.1, 16.1.1, 16.1.2, 16.2, 16.3, 16.4, 16.4.1, 16.5, 16.6 beta 1
➤ iOS 15.6.1 / iOS 15.6 / 15.5
Posi0nKFD IPA Supported Devices:
➤ iPhone 14, iPhone 14 Plus, iPhone 14 Pro, iPhone 14 Pro Max
➤ iPhone 13, iPhone 13 Mini, iPhone 13 Pro, iPhone 13 Pro Max
➤ iPhone 12, iPhone 12 Mini, iPhone 12 Pro, iPhone 12 Pro Max
➤ iPhone 11 Pro Max, iPhone 11 Pro, iPhone 11
➤ iPhone Xs, iPhone Xs Max, iPhone XR
➤ iPhone X, iPhone 8, iPhone 8 Plus
Posi0nKFD IPA: Unlocking iOS Customization With KFD Exploit
What Is Posi0nKFD App?
PosionKFD is a powerful iOS tweak tool that leverages the recently unveiled KFD exploit, compatible with iOS versions 16.5 and below, as well as iOS 16.6 Beta 1. This PosionKFD download free innovative tool unlocks hidden customization options on your iOS device, offering a seamless and user-friendly experience. In this article, we'll explore the features and capabilities of Posi0nKFD, its integration with the groundbreaking KFD exploit, and its current compatibility with various iPhone models and firmware versions.
KFD Exploit and Compatibility:
The foundation of Posi0nKFD with the KFD jailbreak exploit, a pioneering project that revolutionizes the reading and writing of kernel memory on Apple devices. This exploit is the driving force behind Posi0nKFD, unlocking a world of possibilities for font manipulation and unparalleled customization on iOS systems compatible with this exceptional PosionKFD download free tool. However, successful implementation requires discovering unique offsets for each device and iOS version, making it a more intricate task for developers until a comprehensive offset list becomes available.
Empowering iOS Customization:
Posi0nKFD IPA free empowers users to customize their iOS devices effortlessly. It offers features such as hiding the Dock and Home Bar, enabling iPhone 14 Pro Resolution, using custom fonts, personalizing the Control Center with custom icons, and adding a touch of uniqueness to the Lock Screen with custom icons.
Creative Synergy of KFD and Posi0nKFD:
With KFD at its core, Posi0nKFD IPA free elevates iOS customization to new heights, allowing users to manipulate fonts and create a truly unique and personalized mobile experience. This groundbreaking synergy of KFD and Posi0nKFD introduces a new era of creativity and exploration, transforming iOS devices into canvases of individual expression.
Evolving Project and Future Updates:
While Posi0nKFD IPA free is currently more of a proof of concept tool for non-jailbroken devices running iOS 16.5 and lower, it showcases the potential and power of the KFD exploit. The development team continues to work on enhancing the tool, and it is highly likely that additional models and firmware versions will be supported in future updates.
Posi0nKFD IPA download offers iOS users a glimpse into the realm of enhanced customization through the KFD exploit. As an evolving project, it holds promise for further developments and expanded compatibility. iOS enthusiasts looking to explore the limitless possibilities of iOS tweaking can embark on a journey of creativity and personalization with Posi0nKFD. The collaboration of KFD and Posi0nKFD sets the stage for a new era of customization on compatible iOS systems, transforming user experiences on these devices.
Posi0nKFD GitHub Source Code
Posi0nKFD is an innovative iOS tweak tool developed by GenericCoding. The project is now open-source and available on Posi0nKFD GitHub for public access.
The source code mainly consists of the C and Objective-C programming languages. Notably, the source code includes the groundbreaking KFD exploit, enabling kernel memory reading and writing on Apple devices.
What's New In Posi0nKFD
Posi0nKFD v1.3
Correct the A16 commit and update the offset from Miska's repository.
Posi0nKFD v1.2
Posi0nKFD IPA has been updated to version 1.2, featuring bug fixes.
Posi0nKFD v1.1
Posi0nKFD has been updated to version 1.1, introducing exciting enhancements.
A dedicated version for A16 devices is now available, expanding compatibility.
Several bug fixes and overall improvements for a smoother user experience.
Additional offsets have been added to support an even wider range of iOS devices.