Cylinder Reborn Jailbreak Tweaks For Barell Effects iOS 11 – iOS 15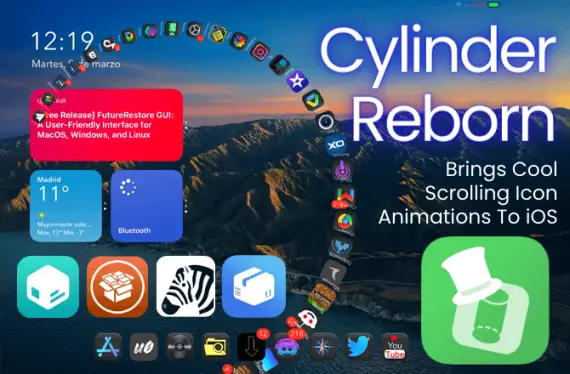 Cylinder Reborn tweak is a fun and creative tweak that allows you to add unique animations to your iOS device's Home Screen as you navigate through pages. Cylinder Reborn tweak offers a range of Barrel-inspired paging animations that can bring your device to life. To enjoy the benefits of Cylinder Reborn, you'll need to jailbreak your iOS device running iOS 11.0 up to 15.7.1.
Cylinder Reborn Jailbreak Tweaks Features
Cylinder Reborn tweak is a fantastic tweak for iOS users that adds exciting animations to the Home Screen while paging. Here are some benefits and features that you can enjoy with Cylinder Reborn:
✅ Toggling Cylinder Reborn on or off with ease.
✅ Choosing the animation effects you want to use from a list of options.
✅ Adding and applying formulas to customize the animations.
✅ Randomizing animation orders for a unique experience.
✅ Cylinder Reborn is expected to work seamlessly with Apple CarPlay.
✅ The ability to select and combine multiple animations to create your own style.
Cylinder Reborn Jailbreak Tweaks Benefits
✅ Adds eye-catching animations to your Home Screen
✅ Makes your iOS device look more visually appealing
✅ Enhances the overall user experience
✅ Provides a fresh and fun way to navigate through pages
One of the cool things about Cylinder Reborn is that you're not limited to just one animation. You can choose and mix different animations to create your own unique style. You can even randomize the order of the animations for a completely different experience every time you scroll through your Home Screen pages.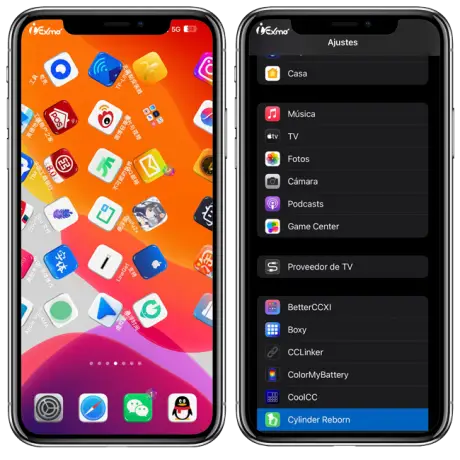 Cylinder Reborn Compatibility
☑️ Cylinder Reborn is compatible with iPhone, iPad, and iPod touch devices.
☑️ Cylinder Reborn jailbreak tweak runs on iOS 11.0 up to iOS 15.7, so a broad range of users can enjoy its benefits.
☑️ Please note that the device must be jailbroken to install and use Cylinder Reborn.
📲 Haven't jailbroken your device yet? Learn how to jailbreak now!
How To Add Cylinder Reborn Repository
If you're looking to add some cool animation effects to your iOS device's Home Screen paging, you can download Cylinder Remade or Cylinder Reborn from Ryan Nair's private repository. To install the latest version of Cylinder Reborn, you need to add the official repository to your package manager and download the tweak. If you prefer the original version, Cylinder tweak, it's still available for download via the BigBoss Repo and compatible with iOS 4 up to the latest iOS 15.
To install the Cylinder Remade and Cylinder Reborn tweaks on your iOS device using Cydia, follow these simple steps:
Step 1: Open the Cydia app from your device's Home Screen. Alternatively, you can use other package managers like Sileo, Installer, or Zebra.
Step 2: Tap on the Sources tab, then select the Edit button.
Step 3: Add the following Cylinder Reborn repository URLs:
🔰 Cylinder Reborn Repo – https://ryannair05.github.io/repo/ Or https://repo.chariz.com.
Step 4: Search for the Cylinder tweak package and install it.
Step 5: Cydia will ask you to respring your device. Simply accept the prompt.
Step 6: After the respring, the Cylinder tweak preference pane will be added to the Settings app, giving you access to all the features and settings of the tweak.
With these simple steps, you can easily add the Cylinder Remade and Cylinder Reborn tweaks to your jailbroken iOS device and start customizing your device's Home Screen paging animations with amazing effects.
Personalize Your iPhone LockScreen With The Best iOS Tweaks
Are you bored of the default lock screen on your iOS 15 device? If so, don't worry! There are many amazing tweaks available that can help you customize and enhance your lock screen to make it truly unique. From adding new widgets and animations to changing the background and font, the possibilities are endless. With these top lock screen tweaks for iOS 15, you can transform your iPhone into a personalized masterpiece.
Best Cydia And Sileo Tweaks
If you're looking to customize and expand the functionality of your iOS 15 device, exploring the world of Cydia and Sileo tweaks is a must. From top-rated sources to the most compatible tweaks, you can take your device to the next level with endless possibilities.
Explore More Cydia Jailbreak Tweaks 🚀
Top Cydia Sources Repos List For iOS
If you want to unlock your iOS 15 device's full potential, jailbreaking is the way to go. With Cydia and Sileo, you can explore a vast collection of tweaks and modifications to make your iPhone even more powerful and customizable. From themes and app customizations to system-level tweaks, the options are endless. To help you get started, we've compiled a collection of the top Cydia Sileo repos and sources for iOS 15.
Ready to take your iOS 15 device to the next level? Get the Cydia Sileo Repos Collection now 📲
Cylinder Reborn: The Ultimate Jailbreak Tweak For Customizing Your iPhone
If you're an iOS user who's into jailbreaking, you're probably always on the lookout for the latest and greatest tweaks to customize your iPhone. One tweak that's been gaining a lot of attention lately is Cylinder Reborn. This tweak is inspired by the popular Barrel app and allows you to play various animations when swiping the screens. In this article, we'll take a closer look at what Cylinder Reborn is, what it can do, and how to use it.
What Is Cylinder Reborn?
Cylinder Reborn is a jailbreak tweak that's designed to replace the boring slide animation of icons with a range of cool scrolling animations. It's inspired by the popular Barrel app and supports over 60 different Home Screen icon animations and effects. The tweak is available in two versions: Cylinder Reborn and Cylinder Remade. The former is based on Lua script, while the latter is based on Swift.
Cylinder Reborn Jailbreaks Support List
Cylinder Reborn is compatible with all modern jailbreaks including Fugu15 max jailbreak, Unc0ver jailbreak, Checkra1n jailbreak, Chimera, Electra, and Taurine jailbreak. This means that you can use it on your iPhone, iPad, or iPod touch running iOS 11 – iOS 15.
If you're using an A12-A15 device, you can install Cylinder Remade on XinaA15 Jailbreak running on iOS 15.0 – iOS 15.1.1.
Older devices running iOS 15 – 15.7.1 with Palera1n Jailbreak can also install this tweak.
And that's not all! Cylinder Remade also supports iOS 14 – iOS 14.8.1, so you can enjoy all of its amazing features no matter what version of iOS you're running.
Cylinder Reborn Options
Once you've installed Cylinder Reborn, you can access its options via a new preference pane in the Settings app. From here, you can toggle the tweak on or off, select animation effects, add formulas, and activate random icon animations. You can also choose to combine multiple effects or create your own using Lua script.
Cylinder Reborn Features
Cylinder Reborn comes with more than 60 different animations to choose from, including bubble, burst, radar, cards, cube, carousel, spin, wave, and more. You can select multiple animations to create a custom effect or use one of the built-in formulas to save a specific combination of animations. Cylinder Reborn also supports random icon animations, which means that you can activate multiple effects at once and let them appear in a random order.
Cylinder Remade
If you prefer a faster and more streamlined version of Cylinder Reborn, you might want to check out Cylinder Remade. This version of the tweak uses Swift instead of Lua script, which provides better performance and less battery drain. Cylinder Remade offers 26 built-in animations, including Hyperspace, Wave, Physcospiral, Vortex, Double Door, Left Stairs, Cube Inside, Card, Cube Outside, Backward, Page Flip, Checkerboard, Icon Collection, Right Stairs, ScatterChomp, Suck, Hinge, Wheel, Ant Lines, Shrink, Page Twist, Spin, and Page Fade.
Cylinder vs. Cylinder Reborn
If you're wondering how Cylinder Reborn compares to the original Cylinder tweak, the main difference is that you can combine multiple effects in the former. Cylinder Reborn also offers more animations and supports the latest jailbreaks. It's a great way to customize your iPhone's Home Screen and make it more fun and unique.
If you're looking for a way to customize your iPhone's Home Screen and make it stand out, Cylinder Reborn is definitely worth checking out. With over 60 different animations to choose from, you're sure to find a combination that you love. And with support for the latest jailbreaks, you can use it on any iOS device running iOS 11 – iOS 15. So why not give it a try today and see what kind of cool effects you can create?
Who Developed Cylinder Reborn Tweaks
Cylinder Reborn is an incredibly innovative package developed by Ryan Nair, which brings an exciting array of scrolling icon animations to iOS. With its unique ability to combine and customize effects, this tweak offers trillions of possible icon effects for your iOS device. However, if you encounter any issues with the package, Ryan Nair is always available to help. Just send him an email with detailed information about the problem, including any error messages, and he will work to resolve the issue quickly.
Cylinder Reborn GitHub Source Code
Cylinder Reborn is an open source project that was released through GitHub Repository. The tweak is a fork of the popular Cylinder tweak with new effects and support for iOS 15. The source code was released under MIT License, allowing developers to modify and improve the tweak.
To compile the code, Xcode must be installed, or a copy of the iPhone SDK >= iOS 13, along with Theos and liblua dependencies. Cylinder Reborn is written in Objective-C, Lua, and Swift programming languages. Developers can also create their own custom animations using the tweak's code.
What's New In Cylinder Reborn Tweaks
Cylinder Reborn v1.1.1
Added support for iOS 15 and Rootless.
Cylinder Reborn v1.1
Added support for pages with the battery/shortcut widget.
Fixed page scrolling after unlocking for some effects.
Removed icon animation fix that was causing crashes.
Improved preference system. (Preferences may be reset upon upgrading)
Cylinder Reborn v1.0.4
Fixed regression from 1.0.3 which caused some icon effects to not work properly.
Added support for devices with more than 10 icon pages.
Performance optimizations.
Cylinder Reborn v1.0.3
Fixed an unexpected crash on iOS 14.
Added Croatian translations.
Cylinder Reborn v1.0.2
Fixed icons disappearing in folders.
Fixed crash when opening a widget.
Fixed effects not always showing on iPads.
No longer depends on liblua fixing issues when using the Procursus.