iTorrent IPA Download For iOS 15 – iOS 16 iPhone, iPad, iPod [iTorrent Install Latest]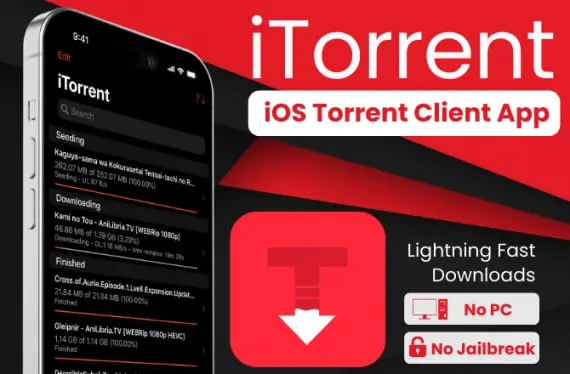 iTorrent IPA is a torrent client app designed for iOS, providing built-in support for the Files app.
While BitTorrent clients are not available on the App Store, users can still download torrent files on their iPhones through various options. Among these options, iTorrent IPA apps without jailbreak stands out as the most popular choice and is widely considered the best BitTorrent client for iOS 9.3+, iOS 14 – iOS 16.
iTorrent IPA For iOS 14 – iOS 16 | iOS Torrent Client App
Top iTorrent Features For iOS – The Feature-Rich Torrent Client for iOS
🔄 Background Download: Download torrents in the background while using other apps.
🎬 Sequential Download: Watch movies using VLC while torrents are still loading.
📤 Add Torrents Easily: Add torrent files and magnet links directly from Safari and other apps using the Share menu.
🗂️ Files App Integration: Store downloaded files in the Files app on iOS 11 and later versions.
💾 WebDav Server: Access and manage your downloaded files using the WebDav server.
📩 Notifications: Get notified when your torrents are downloaded and ready to use.
🌓 Dark Mode Support: Switch to a dark theme for a more comfortable viewing experience.
🔗 Download by Link or Magnet: Download torrents either by link or magnet for convenience.
📡 RSS Feed Support: Stay updated with RSS feeds and easily manage your favorite torrents.
And many more features to enhance your torrenting experience on iOS!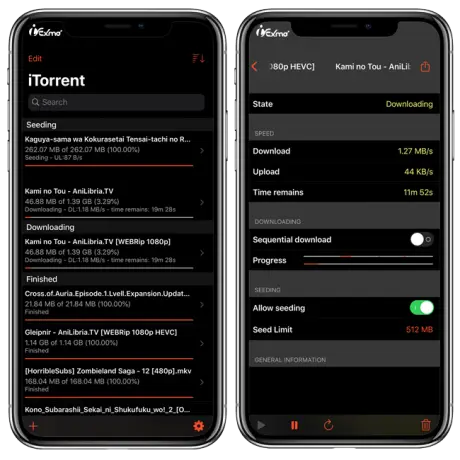 How To Download iTorrent IPA for iOS iPhone, iPad Or iPod
You can sideload iTorrent IPA on your iPhone using either Sideloadly, compatible with Windows and macOS, or SideStore, an on-device IPA signing tool for iOS 14 – iOS 15. Both methods support installation on both non-jailbroken and jailbroken devices.
Besides Sideloadly and SideStore, you have various on-device IPA installers available to sideload iTorrent IPA on iOS 15. Options include Install via AltStore, TrollStore, Esign, or Bullfrog Assistant. The best part is that all of these iTorrent install methods work without the need for jailbreaking.
How To Install iTorrent IPA On iOS Using Sideloadly

Step 1: Download the latest iTorrent IPA.
Step 2: Launch the Sideloadly application on your PC or Mac.
Step 3: Connect your iPhone or iPad to the computer using a USB cable.
Step 4: Load the downloaded iTorrent IPA file into Sideloadly to initiate the installation process.
Step 5: Enter your Apple ID to sign the iTorrent IPA file for installation.
Step 6: Click the "Start" button in Sideloadly to begin the sideloading process onto your iOS device.
Step 7: When prompted, enter the password for your Apple ID to proceed.
Step 8: Open the Settings app on your device, navigate to General > VPN & Device Management and tap on the developer app linked to your email. Tap "Trust" to authorize the app to run.
Enjoy using iTorrent on your iOS device without any hassle!
How To Install iTorrent IPA Using AltStore
Learn how to install iTorrent on your iOS device using AltStore, a reliable method for sideloading apps without jailbreaking.
Step 1: Install AltStore on your iOS device.
Step 2: Download the latest iTorrent IPA file.
Step 3: Launch AltStore and go to the "My Apps" tab.
Step 4: Tap the plus "+" icon and select the downloaded iTorrent IPA file.
Step 5: Enter your Apple ID and password (use a disposable account if preferred).
Step 6: The iTorrent IPA app will install, and you can open it from "My Apps" or the Home screen.
Step 7: Remember to re-sign iTorrent every 7 days from the "My Apps" tab to keep it active
By following these steps, you can easily enjoy the features of iTorrent on your iOS device without the need for jailbreaking. iTorrent AltStore provides a convenient and secure way to sideload apps, giving you access to a wide range of functionalities without any hassle.
How To Install iTorrent IPA No Computer On iOS Using TrollStore
To install iTorrent IPA on your iOS 14 and iOS 15 devices, you can use TrollStore, a reliable and free IPA Installer application. Unlike other sideloading tools, download iTorrent iOS TrollStore offers a permanent installation method without the risk of app revocation on iOS. Get ready to enjoy the feature-rich torrent client hassle-free!
Step 1: Install TrollStore on your iOS device running firmware between iOS 14 and iOS 15.4.1.
Step 2: Download the iTorrent IPA and save it on your iCloud storage.
Step 3: Share the downloaded iTorrent IPA file with TrollStore using the built-in sharing feature.
Step 4: TrollStore will handle the installation process automatically once the IPA file is loaded.
Step 5: Once the installation is complete, you can access the iTorrent app directly from your Home Screen.
TrollStore Compatibility And Supported iOS Versions
TrollStore is compatible with iOS versions ranging from 14.0 to 15.4.1.
It also supports iOS 15.5 beta 1 to beta 4, and iOS 15.6 beta 1 to beta 5.
However, there is no support for iOS 15.5, iOS 15.6, or any future iOS 16 releases.
How To Install iTorrent On Jailbroken iOS [ Jailbreak Torrent Client]
Download iTorrent, a powerful libtorrent-based BitTorrent client for iOS 15, is now available as an IPA package. Although iTorrent repo can be sideloaded on jailbroken devices, you can also conveniently download and install the app package from the hackyouriphone repository, an unofficial source.
Step 1: Open the Cydia app from your iOS device's Home Screen.
Step 2: Tap on the "Sources" tab > then select "Edit."
Step 3: Add the following repository URL.
🚀 iTorrent Repo URL: http://repo.hackyouriphone.org.
Step 4: Once the repository is added, you can proceed to install the Sileo package.
Step 5: After the installation is complete, respring your iPhone to apply the changes.
Step 6: You can now access Sileo and start installing the latest iTorrent tweaks from your Home Screen.
📱 With a jailbroken iOS device, you can easily install iTorrent by adding the repository to your preferred package manager, such as Cydia, Sileo, Installer, or Zebra.
What Is iTorrent iOS Torrent Client App?
iTorrent is a feature-rich and robust BitTorrent client specifically designed for iOS devices. It empowers users to effortlessly download and manage all types of torrent files directly on their iPhones or iPads. The download iTorrent IPA app supports torrent files, URL links, and magnet links, making it highly versatile. Compatible with iOS 13 to iOS 15, iTorrent offers a range of useful features to enhance your torrenting experience.
Seamless Torrent Management:
Once you install the iTorrent IPA on your iOS device, you'll find the application readily accessible from the Home Screen. iTorrent mirror download has been carefully crafted to provide a seamless and user-friendly torrent downloading and management experience. What's even better is that this exceptional BitTorrent client for iOS is completely free to use.
Advanced Features at Your Fingertips:
Download iTorrent iOS comes packed with advanced features that grant you complete control over your torrent downloads. You can effortlessly monitor progress and estimated completion times, set speed limits, pause and resume downloads, enable sequential downloading, edit trackers, manage downloaded files, and even allow seeding. It serves as a superior alternative to iTransmission, offering continuous development and support.
Compatibility and Integration:
Whether you have a non-jailbroken or jailbroken iOS device, iTorrent iOS is fully compatible and actively developed for both. As a native iOS app, it seamlessly integrates with the iOS system, allowing you to open magnet links from any browser, including Safari mobile. No matter your iOS version, iTorrent has you covered.
Convenient Download Management:
Download iTorrent IPA simplifies the process of managing your downloads. Whenever you start downloading a torrent file, download iTorrent automatically adds it to the download list. From there, you can efficiently manage your downloads by deleting files, pausing them, or viewing essential details such as file hash, creation date, comments, and the app name used for its creation.
Enjoy Your Favorite Content On-the-Go:
One of iTorrent's standout features is its support for background downloading and sequential downloads. This download iTorrent IPA incredible capability allows you to watch movies in VLC while the torrent is still being downloaded. Now you can enjoy your favorite content on the go without waiting for the download to finish.
Important Note: Torrenting Responsibly: It is essential to exercise caution when downloading torrents, as they are often associated with distributing pirated or illegal content. In many countries, downloading and sharing copyrighted material without proper authorization is against the law. Therefore, it is crucial to use trusted sources and comply with legal regulations.
A Feature-Rich Experience:
Download iTorrent offers a plethora of additional features to enhance your torrenting experience. These include an RSS Feed, file sharing with web servers or WebDAV servers (with login and password protection), customizable light and dark themes, notification support, and options to set download and upload speed limits and allocate storage.
iTorrent Customization and Control:
With iTorrent IPA download, you are in charge of your experience. Customize the appearance of section orders, such as Metadata, Allocating, Checking faster resume, Seeding, and Hashing, to your liking. Additionally, configure a proxy connection and control the number of simultaneous downloads and active torrents through the app's settings.
Your Ultimate BitTorrent Solution:
In conclusion, iTorrent stands as the ultimate BitTorrent client for iOS, enabling seamless torrent downloading and management on iPhones and iPads. With its incredible features, including background downloading, sequential downloads, an RSS Feed, file sharing capabilities, and a customizable interface, iTorrent offers a user-friendly and efficient way to download torrents on iOS. Embrace the power of iTorrent and enjoy a rich torrenting experience on your iOS device!
Happy torrenting! 
iTorrent Frequently Asked Questions (FAQs)
Is it safe to use iTorrent on my iPhone?
Yes, iTorrent is a safe and reliable app used by thousands of iPhone users. However, downloading torrent files from unreliable sources can be risky, as they may contain pirated content. Stick to using iTorrent from trusted sources to ensure your safety.
Do I need to jailbreak my iPhone to install iTorrent?
No, you don't need to jailbreak your iPhone. iTorrent can be installed on both jailbroken and non-jailbroken devices. The iTorrent IPA provided by the IPA Store works seamlessly on both jailbroken and non-jailbroken iPhones and iPads.
Is torrenting legal or illegal?
Torrenting itself is not illegal. However, downloading or sharing copyrighted material without permission is considered illegal in many countries. Always ensure you have the right to download the content before using iTorrent.
Will I be caught for torrenting if I use a VPN?
Using a VPN can enhance your privacy while torrenting, but it's essential to use a VPN with a kill switch feature. If your VPN connection drops, the kill switch will prevent your real IP address from being exposed, reducing the risk of being caught.
Is it legal to download from iTorrent?
Downloading from iTorrent is legal as long as you only download materials that you have the right to access, such as non-copyrighted content or content with proper permissions. However, downloading copyrighted material without permission can lead to legal consequences. Always be mindful of the content you download and use iTorrent responsibly.
What's New In iTorrent
iTorrent Version 1.9
iTorrent updated to version 1.9, bringing a host of exciting enhancements and optimizations.
Framework fixes have been implemented to ensure smoother performance.
Added full support for iOS 14 and iOS 15, enhancing compatibility across different iOS versions.
iTorrent Version 1.8.3
Fixed the Patreon issue on iOS 14, ensuring seamless integration for Patreon users.
Libtorrent has been updated to version 1.2.10, improving overall functionality and performance.
iTorrent Version 1.8.2
Text accessibility support has been added, making the app more inclusive and user-friendly.
Underwent significant backend refactoring for improved stability and efficiency.
Libtorrent updated to version 1.2.9, enhancing torrent handling capabilities.
Minor UI improvements for a better visual experience.
Bug fixes were made, addressing issues and enhancing overall performance.
iTorrent Version 1.8.1
Introduced an RSS feed feature, allowing users to stay updated with their favorite content.
Improved section partitioning for a more organized user interface.
Expanded support for other P2P protocols, broadening download options.
Added support for proxy server usage, enhancing security and privacy.
Users can now select a preferred port for smoother connections.
Customized speed limitations are now available, giving users more control over their downloads.
Libtorrent updated to version 1.2.7, offering improved torrent handling capabilities.
Numerous interface improvements, ensuring a more user-friendly experience.
Bug fixes were made, enhancing app stability and performance.
iTorrent Version 1.8
A major overhaul of the application, with extensive rewriting to eliminate memory leaks.
Dramatically improved app stability, ensuring a seamless user experience.
Implemented efficient memory management, optimizing resource usage.
Memory allocation for files before downloading to streamline the process.
Libtorrent updated to version 1.2.6, bolstering torrent handling capabilities.
Noteworthy UI improvements for a more visually appealing interface.
Integration with Patreon has been added, providing users with additional benefits.
iTorrent Version 1.7.4 Hotfix
Fixed background mode issue when zero speed limit was disabled.
Added support for the https protocol for trackers, improving secure connections.
FTP server replaced with WebDAV, enabling convenient file sharing through web browsers.
Added background stop when downloading at zero speed, conserving resources.
Clicking on a notification now opens a specific window, enhancing user convenience.
Various UI improvements, refining the overall visual experience.