FileSwitcherPro IPA MacDirtyCow Toolkit For Modify Hidden iOS Settings [FileSwitcherX Successor]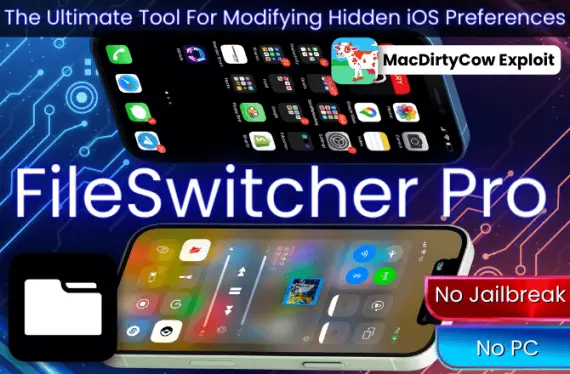 FileSwitcherPro is a new app for iOS users that takes system modifications to the next level. With this FileSwitcherPro IPA app, you can replace various .plist configuration files, bringing greater customization options to your device. The FileSwitcherPro app leverages the MacDirtyCow exploit, which has already been used by the jailbreak community to achieve many enhancements on iOS 14 to iOS 16.1.2. FileSwitcherPro mac dirty cow app is an evolution of the popular app FileSwitcherX, providing users with even more advanced options for customizing their devices.
FileSwitcherPro: The Ultimate MacDirtyCow File Management Solution For iOS 14 – iOS 16
Download FileSwitcherPro IPA [Latest]
Key Features Of FileSwitcherPro
FileSwitcherPro is an advanced app that takes the place of FileSwitcherX and offers a host of customization options for iOS users. Managing multiple files can often be a tedious and time-consuming task. However, with FileSwitcherPro mac dirty cow app, you can easily streamline your file management process and increase your productivity.
FileSwitcherPro is an advanced file management tool that enables you to effortlessly switch between multiple files and folders with ease. With its intuitive and user-friendly interface, you can quickly and efficiently manage all your files in one central location. With FileSwitcherPro, users have the ability to:
✅ Automate the replacement of files for convenience.
✅ Personalize the home screen by arranging only the desired tweaks.
✅ Experiment with different colors for the control center, notifications, dock, and folders.
✅ Alter the carrier name and beta alert text to their liking.
✅ Apply TrollLock from FileSwitcherPro.
✅ Face Unlock used via FileSwitcherPro without jailbreak
✅ Easily apply changes made to a file in another app by importing it into FileSwitcherPro.
✅ Benefit from seamless integration with a file manager.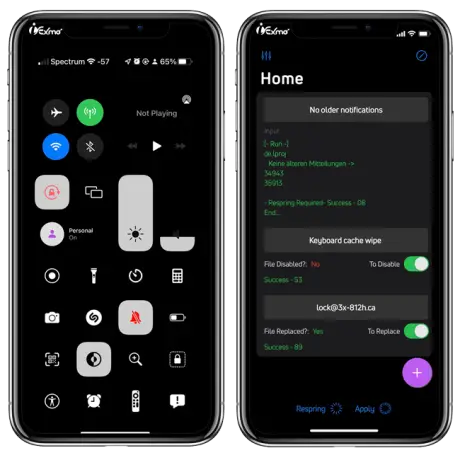 ✅ File Organizing: FileSwitcherPro allows you to organize your files in a hierarchical manner, making it easier to find what you need. With the ability to create folders and sub-folders, you can categorize your files and ensure they are stored in an easily accessible manner.
✅ File Searching: The powerful search function of FileSwitcherPro makes it easy to locate the files you need, regardless of how many files you have. Simply type in keywords related to the file you're looking for, and the software will quickly show you the relevant files.
✅ File Transfer: FileSwitcherPro enables you to quickly transfer files from one location to another. Whether you need to move files from your computer to an external hard drive or vice versa, FileSwitcherPro makes the process effortless.
✅ File Backup: FileSwitcherPro also comes equipped with a built-in file backup feature, ensuring that you never lose your important files due to hardware failure or other unexpected events.
How To Download And install FileSwitcherPro IPA
FileSwitcherPro, an IPA app, is designed to offer users a new level of customization and control over their iOS device. To install the FileSwitcherPro app, you have multiple options, including TrollStore, Bullfrog Assistant, SideStore, AltStore, and Esign. In this FileSwitcherPro guide, we will take you through the process of sideloading the app using Sideloadly. With FileSwitcherPro installed, even non-jailbreak devices can enjoy modifications to iOS settings, bringing a unique touch to the device.
Here's a step-by-step guide on how to install FileSwitcherPro IPA using Sideloadly on iOS:
Step 1 > Obtain the FileSwitcherPro IPA file from the download link above.
Step 2 > Open Sideloadly on your computer.
Step 3 > Connect your iOS device to the computer via a USB cable.
Step 4 > Load the FileSwitcherPro IPA into Sideloadly.
Step 5 > Sign the IPA file using your Apple ID.
Step 6 > Hit the "Start" button to initiate the sideloading process.
Step 7 > Enter the password for your Apple ID when prompted.
Step 8 > Go to the Settings app on your Home Screen.
Step 9 > Navigate to "General", then "VPN & Device Management".
Step 10 > Identify the developer app linked to your email and click on it.
Step 11 > Tap "Trust" to grant permissions for the app to run.
Step 12 > Finally, access the FileSwitcherPro app from your Home Screen.
How To Install FileSwitcherPro IPA Permanently With TrollStore
TrollStore IPA installer is a straightforward solution for installing IPA files on iOS devices. With its seamless process, you can have any IPA file up and running in no time. Once you add an IPA file to the app list, TrollStore grants it a permanent certificate, ensuring a hassle-free experience. With this reliable tool at hand, you can have all the IPA files you need right at your fingertips.
Step-by-Step Guide to Installing FileSwitcherPro IPA using TrollStore:
Step 1 > Download the desired FileSwitcherPro IPA file. A reliable source for updated IPA files can be found on the iExmo IPA library.
Step 2 > Import the FileSwitcherPro IPA into the TrollStore app list.
Step 3 > Click the install button for FileSwitcherPro to start the installation process.
Step 4 > Find the FileSwitcherPro IPA icon on the home screen and tap it, then select Open.
With TrollStore providing a permanent certificate for IPA files added to the app list, the installation process is made simple and seamless.
Discover the Latest MacDirtyCow IPA Apps – Your Key to Customizing Your iOS Device
Are you looking for a way to customize your iOS device without jailbreak? Look no further than the latest MacDirtyCow IPA app. This app, available for free, provides you with access to a variety of powerful tools that allow you to tweak system settings and replace default system sounds.
With the MacDirtyCow IPA app, you can easily modify your iOS device to suit your preferences. Whether you want to change the way your device looks or alter its functionality, the MacDirtyCow IPA app has everything you need. With its user-friendly interface and powerful capabilities, you can enjoy a fully customized iOS experience.
So why wait? Browse the latest MacDirtyCow IPA apps today and see what you can do to enhance your iOS device. Get started now and enjoy a whole new world of customization options!
FileSwitcherPro Customization Tips And Trick 💡
How To Change The Font Using FileSwitcherPro
For non-jailbreak machines that do not use trollstore, it is very easy to restore defaults. you can do this to quickly apply fonts.
🚀 Download Keycaps Google Sans »
Step 1 > Copy this URL.
Step 2 > Open the FileSwitcherPro app.
Step 3 > Select Item Type as Original Item.
Step 4 > Paste this URL for target file path.
Step 5 > Add the main name as Google Sans Keycaps.
Step 6 > Copy this URL.
Step 7 > Again go to FileSwitcherPro app and set the target file path.
Step 8 > Add the main name as Clear Cache Keycaps.
Step 9 > Go to FileSwitcherPro home and toggle On newly added options.
Step 10 > Then Restart SpringBoard.
You can replace font keycaps, system, clock in the above way. for new keycaps need to clear cache.
How To Apply The Theme With TrollLock
Step 1 > Download the TrollLock app.
Step 2 > Then go to /var/mobile/Containers/Data/ Application/Trolllock.app/Documents/ 
Copy the path of the main.caml and add to FileSwitcherPro
How FileSwitcherPro Can Benefit You
☑️ Increased Productivity: By streamlining your file management process, FileSwitcherPro can help you increase your productivity. With the ability to quickly switch between files and folders, you can complete your tasks in a fraction of the time it would take with traditional file management tools.
☑️ Better Organization: FileSwitcherPro helps you better organize your files, allowing you to easily locate what you need when you need it.
☑️ Enhanced Security: With the built-in file backup feature, FileSwitcherPro enhances the security of your files by ensuring that they are always backed up and protected.
☑️ Time-Saving: FileSwitcherPro saves you time by eliminating the need to constantly switch between multiple file management tools. With all your files stored in one central location, you can complete your tasks quickly and efficiently.
What Is FileSwitcherPro App?
FileSwitcherPro is a cutting-edge tool that empowers iOS users to modify system files on their devices running on iOS 14 to 15.7.1 and iOS 16 to 16.1.2. Utilizing the MacDirtyCow exploit, users can tweak and customize their device without the need for jailbreak.
This powerful tool comes loaded with predefined settings, organized into categories, making it easier for users to navigate and make changes to their device. However, if desired, users can delve deeper and modify any file on their file system, including the important .plist files.
The .plist files, which contain crucial configuration data, can be altered to personalize the home screen, change the carrier name, hide status bar icons, change the colors of control center, notifications and more. With FileSwitcherPro, users have the ability to tweak their device to their liking.
With FileSwitcherPro, making changes to your iOS device has never been easier. Once you've sideloaded the app onto your iDevice, it will be readily available from your home screen. The app offers pre-configured options for quick customization, including tweaks for the SpringBoard, Keyboard, Camera, and Dial.
In addition to these basic customizations, FileSwitcherPro gives users the power to personalize the text for their carrier name, beta alert, and notification center, eliminate the "no older notifications" message, and switch or disable system sounds for functions like the camera, keyboard, and charging. With a user-friendly interface and powerful capabilities, FileSwitcherPro is the ultimate tool for anyone looking to modify their iOS device without jailbreaking.
FileSwitcherPro presents a unique advantage for tech-savvy iOS users with its customizable system modification shortcuts. With the option to add your own items and designate file locations, as well as overwrite options like disabling or replacing files, this app is perfect for those who want to take their device customization to the next level. This feature, however, is reserved for advanced users with a deeper understanding of system files and how they work.
FileSwitcherPro Is A Successor Of FileSwitcherX
FileSwitcherX is a new and innovative app built on the solid foundation of the well-known MacDirtyCow exploit. With this tool, you can change various system settings and switch up your device's default sounds without the need for jailbreak. To use this FileSwitcherX app, simply sideload the FileSwitcherX IPA onto your device running iOS 14 to iOS 16.1.2.
Get FileSwitcherX: A Revolutionary iOS Tweaking Tool Without Jailbreak.
FileSwitcherPro Alternatives
If you're seeking alternatives to FileSwitcherPro for modifying .plist files on iOS, consider using a file manager such as Filza or Santander. Both are compatible with TrollStore and updated to support the MacDirtyCow exploit. They allow you to easily navigate your device's file system and make changes to .plist files. Simply copy the files to your Documents directory, make the desired modifications, and then import them into FileSwitcherPro for activation.
Who Create FileSwitcherPro IPA App
FileSwitcherPro is a game-changer for iOS users who want to modify system files without jailbreaking their device. The app, created by developer straight-tamago, is just one of the many innovative tools they have created to enhance the iOS experience.
Straight-tamago is also the mastermind behind other popular MacDirtyCow apps such as RespringCC, FileSwitcherX, and NoCameraSound. With a reputation for creating top-notch apps, users can be sure that FileSwitcherPro will meet their expectations and provide a seamless, user-friendly experience.
FileSwitcherPro GitHub Source Code
FileSwitcherPro is a collaborative effort, thanks to its open-source nature. The source code is readily available through GitHub Repository, inviting developers and enthusiasts to make contributions, report bugs, or even build their own versions. This community-driven approach fosters growth and ensures the tool remains relevant and up-to-date.
Frequently Asked Questions
The following are some of the most typical inquiries about FileSwitcherPro IPA:
Is FileSwitcherPro free?
Yes, the FileSwitcherPro application is free of charge. This means you can download and use the software without incurring any costs.
Does FileSwitcherPro require jailbreak?
The use of FileSwitcherPro may or may not require a jailbroken device, as the requirement may have changed over time.
What kind of files can I manage with FileSwitcherPro?
With FileSwitcherPro, you can manage various files such as .plist files, system settings, and other files on your iOS device.
Can I add my own items to FileSwitcherPro?
Yes, FileSwitcherPro offers the possibility to create custom shortcuts for your own system modifications, where you can add your own files with designated locations and overwrite options.
Is FileSwitcherPro open source?
Yes, FileSwitcherPro was released as an open-source project, with its source code available on GitHub for collaboration and contributions from developers and stakeholders.
Can I use FileSwitcherPro on any iOS device?
The compatibility of FileSwitcherPro with different iOS devices may vary and depend on the version of the operating system and other factors.
What is the MacDirtyCow exploit?
MacDirtyCow is a vulnerability that was discovered in iOS and macOS systems, allowing malicious actors to execute arbitrary code with root privileges. FileSwitcherPro is based on the MacDirtyCow exploit, which has since been fixed in iOS 16.2.
What are the alternatives to FileSwitcherPro?
Some alternatives to FileSwitcherPro include tools like Filza file manager, and Santander file manager, which offer similar file management capabilities for iOS devices.
What's New In FileSwitcherPro
FileSwitcherPro v1.1
FileSwitcherPro v0.8
FileSwitcherPro v0.7
Notification Center Title.
No older notifications.
System Version.
Fixed bugs.