BlizzardBoard For TrollStore iOS 15 | Icon Theming Engine for iOS 15 / iOS 14 [Latest]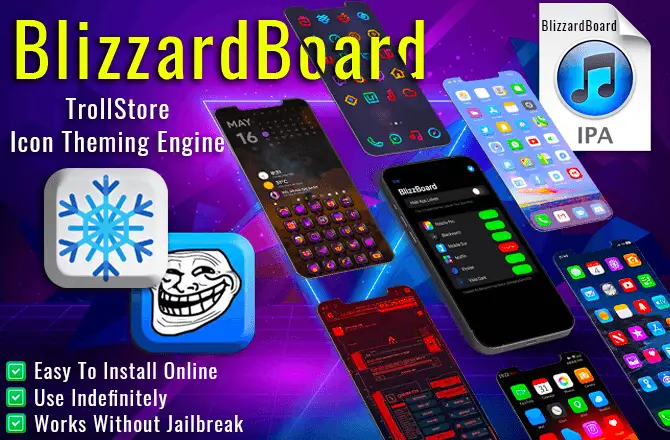 Your iPhone or iPad must have the BlizzardBoard iOS icon theming engine installed. You can customize your iPhone no matter anything with BlizzardBoard themes for iOS 15. So now TrollStore arises, providers may download solutions like BlizzardBoard iPA without using jailbreak. By changing icons with iOS themes that work with SnowBoard themes iOS, BlizzardBoard GitHub tool may customize how your Home Screen looks.
Download BlizzardBoard iPA | The Best Theming App For TrollStore
Why choose BlizzardBoard stable iPA?
The stable version of BlizzardBoard is extremely stable, therefore bootloop should not occur.
Why choose BlizzardBoard unstable iPA?
The theme icons may be moved in the unstable version to match the location of the original app icons on the Home Screen, however they cannot be moved in the stable version.
---
BlizzardBoard Compatibility
TrollStore on BlizzardBoard theme github doesn't really require a jailbreak, unlike the Permasigner program. Therefore, BlizzardBoard TrollStore works with both jailbroken and non-jailbroken devices.
BlizzardBoard Supported iOS Versions
15.5 beta 1 – 4 / iOS 15.4.1 / iOS 15.4 / iOS 15.3.1, iOS 15.3 / iOS 15.2.1 / iOS 15.2 / iOS 15.1.1 / iOS 15.1 / iOS 15.0.2 / iOS 15.0.1 / iOS 15 /iOS 14.8.1 / iOS 14.8 / iOS 14.7.1 / iOS 14.7/ iOS 14.6 / iOS 14.5.1 / iOS 14.5 / iOS 14.4.2 / iOS 14.4.1 / iOS 14.4 / iOS 14.3 / iOS 14.2.1 / iOS 14.2 / iOS 14.1 / iOS 14.0.1 / iOS 14
iOS 15.5 / iOS 15.5 RC / iOS 15.6 and above – Not Supported.
BlizzardBoard Supported iOS Device
BlizzardBoard TrollStore supports every iOS system that allows the TrollStore. Check whether your device and iOS are compatible with the TrollStore approach by tapping the AI-based TrollStore compatibility checker below.
How To Install BlizzardBoard iPA For iOS Without Jailbreak
Although BlizzardBoard's theming engine was made available as an IPA package, you can only install it onto your iPhone through TrollStore. Only iOS 15 and iOS 14 support this BlizzardBoard Online method. The BlizzardBoard tool won't let you switch icon themes on your iPhone when you attempt to install BlizzardBoard through Sideloadly or AltStore iOS.
Installing BlizzardBoard via TrollStore
Step 1 > First, download the TrollStore Permanent IPA Installer and install it on your iOS device.
Step 2 > Utilizing mobile Safari, download the BlizzardBoard IPA file and save it to your files.
Step 3 > Now share this BlizzardBoard IPA for TrollStore app by tapping the share icon.
Step 4 > From your Home Screen, you can launch the BlizzardBoard tool.
How To Install Themes With BlizzardBoard For iOS
It may be a little tricky to import themes to use the BlizzardBoard theming engine on iOS 15. The newest release of BlizzardBoard GitHub app allows for the import of native jailbroken themes in .theme format. In fact, a folder containing all icons is what the .theme file extension is. The icons don't need to be changed.
Step 1 > Download the file for BlizzardBoard compatible themes.
Step 2 > Just tap on it and it will be extracted. (.theme extension)
Step 3 > Tap and hold the folder > Click on share > Open it with BlizzardBoard.
Step 4 > Now simply tap the "Enable" button.
Step 5 > Choose "Respring" when the theme file has been added to the BlizzardBoard theme list.
Step 6 > You can observe the changes when you return home.
📌 When manually pasting themes into the var/mobile/themes directory, create a new folder called ThemeName.theme and put the IconBundles folder within. There is no capability for ZIP archives.
The Best BlizzardBoard Themes Collection For iOS 15
You can easily download the Blizzard Board themes for iOS 15 to 15.5 beta 1, 4, and iOS 14. These BlizzardBoard theme collections support the BlizzardBoard app. The idea of BlizzardBoard themes looks like an awesome way to use TrollStore on non-jailbroken mobile devices.
BlizzardBoard Themes Setting
Simply choose "enable" next to the theme you wish to use at the bottom of my app to access features like label hiding. Depending on how many icons the theme has, it can take some time.
Just be sure to keep the app open during this process. When it's finished, you should also have themed icons on your home screen. You may rearrange them to suit your requirements by tapping the respiring button.
What Is BlizzardBoard Icon Theming Engine?
A simple theming engine for iOS 15 and iOS 14, BlizzardBoard (BlizzBoard for iOS 15) may be downloaded and installed on any TrollStore-compatible device. It is a TrollStore theming tool. With only one finger swipe, this BlizzardBoard tool can change every icon just on Home Screen. Themes for blizzardboard functions immediately for all installed programs, unlike the Shortcuts approach.
The BlizzardBoard app may be accessed from the Home Screen once it has been installed. The app will display all of the installed themes on your device as soon as you launch blizzard board trollstore. From this point, you may quickly turn on and off a particular theme or uninstall an icon pack on your device.
As an option, you may unzip the file and send it to BlizzardBoard to have the theme added to the folder automatically. The manual way appears more practical because this capability is not enabled on all devices. The application will restart your device after loading an icon theme.
To see all installed icon themes, need to reopen the app as BlizzardBoard doesn't immediately update the themes list. The tool is a wonderful replacement for the famous SnowBoard theming engine, even though it doesn't provide all functionality. Furthermore, it can run without a jailbreak. The majority of Snowboard themes are supported by this icon theming engine for iOS 15 without any modifications, but some will need minor adjustments because the app icons have names.
The BlizzBoard app is now also available for download from the BlizzardBoard GitHub repository in an initial release. Even while it has advanced functionalities, such as the option to move theme icons so they line up with the app icon that was originally displayed on the Home Screen, it could also have some other limitations. A disabled WebClip removal toggle and an on-demand respring button are also included in the BlizzBoard unstable release.
With no banner notice, the BlizzBoard theming tool for iOS 15 generates a web clip and opens the desired app immediately. In this way, changing the icon won't need you to interfere with the program package. Although BlizzardBoard shows various icons at once, this is essentially identical to how Shortcuts work.
Who Creates the Blizzard Board?
Benjamin Hornbeck is the developer of the BlizzardBoard iOS 15 at this moment in its development. Provides a built-in method for installing fresh icon themes for Springboard.
BlizzardBoard Source Code | BlizzardBoard GitHub
Benjamin made the decision to publish the BlizzardBoard TrollStore themeing app's source code under the BenjaminHornbeck6 / BlizzardBoard blizzardboard github repository. Licensed under the BSD-2-Clause. Therefore, other skilled tweak developers may contribute to the creation of this tool by resolving issues and adding new capabilities. Swift, Objective-C, and C languages were used in the development of the BlizzardBoard TrollStore theme.
Blizzard Board Themes Alternatives
TrollTools IPA For TrollStore
For TrollStore users, TrollTools is innovating the iOS 15 customization tool. TrollTools is the perfect Blizzard Board alternative for simply customizing your iOS themes.
Mugunghwa IPA For TrollStore
Mugunghwa has received various updates that will enhance the functionality and security of the app icon theming. The nicest Blizzard Board Themes alternatives, especially when you want to personalize your iPhone to the maximum capacity, are Mugunghwa IPA for TrollStore and its iOS theming engine.
SnowBoard Free Tweaks For iOS Theming
For iOS 15, the SnowBoard tweak is an icon theming engine. The famous WinterBoard theming engine's lightweight spiritual heir is called SnowBoard. It accepts formats from all of the other well-known theming engines and is compatible with iOS 7 and beyond. How to use snowboard iOS? You can know snowboard iOS 14, snowboard iOS download, snowboard iOS 15, snowboard iOS 14 themes, snowboard iOS 15 download all in one place.
Best Themes For SnowBoard iOS »
What's New In BlizzardBoard?
BlizzardBoard v1.1
Version 1.1 of BlizzardBoard has been updated.
Some boot loop problems were fixed.
The installed themes now include error warnings.
Unresponsive sharing problem has been fixed.
Initial release with Hide App Labels added.