Dynamic Stage Jailbreak Tweak – Split Screen Multitasking For iPhone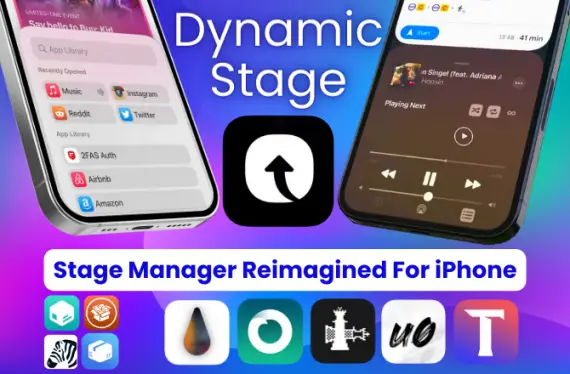 Dynamic Stage jailbreak tweak is the innovative reimagining of Stage Manager for iPhone, seamlessly merging with the essence of Dynamic Island. Prepare for a multitasking journey like never before, as Dynamic Stage jailbreak tweak transforms your iOS experience with its smooth integration, offering fluid gestures and captivating animations.
Experience Seamless Multitasking With Dynamic Stage Tweak!
Discover the power of Dynamic Stage iOS multitasking tweak, a cutting-edge jailbreak tweak designed to revolutionize multitasking on your iOS device.
Features Of Dynamic Stage
✅ Fluid Split View: Dynamic Stage jailbreak tweak enables you to simultaneously run two independent apps in split view mode. Seamlessly switch between apps and boost your productivity.
✅ Intuitive Activation: Swipe up from the bottom right corner to access the stage. This intuitive gesture instantly opens the multitasking interface, ready to empower your workflow.
✅ Custom App Launch: Tailor the launching behavior of your installed apps based on your preference. Choose between iPhone or iPad mode to optimize your multitasking experience.
✅ Dynamic Resizing: Launch apps in iPad mode and enjoy dynamic resizing without the need for a full relaunch. Benefit from split view and app backgrounding with a fluid transition.
✅ Home Screen Flexibility: Disable Dynamic Stage on your Home Screen to maintain a seamless interface and focus on your tasks without interruption.
✅ Visual Enhancements: Modify the appearance of the Dynamic Stage interface to match your style. Personalize the tweak's visual elements to create a cohesive look.
✅ Effortless App Management: Minimize apps by dragging them down from the top edge of the stage. Swipe up to close an app within the stage, ensuring an effortless and efficient multitasking process.
✅ Compatibility Across Jailbreaks: Dynamic Stage supports a range of popular jailbreaks, including Dopamine, Palera1n, checkra1n, and unc0ver. Experience enhanced multitasking no matter your preferred jailbreak tool.
With Dynamic Stage jailbreak tweak, you're not only multitasking; you're elevating your iOS experience. Immerse yourself in a fluid interface, enjoy split view capabilities, and redefine the way you work and play on your iOS device.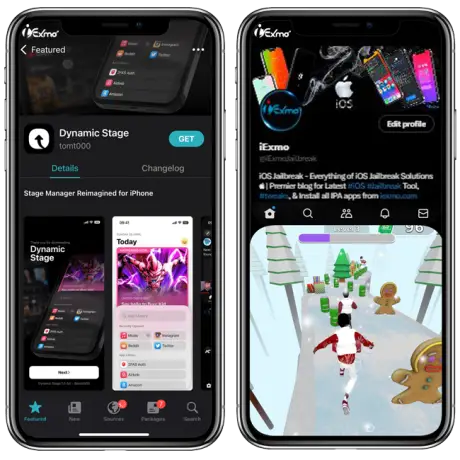 Best Jailbreak Tweaks For iOS
Jailbreaking your iOS device opens up a world of possibilities for customization and enhanced functionality. Here's a list of some of the best jailbreak tweaks available for iOS, offering unique features and improvements that cater to various preferences.
How To Add Dynamic Stage Repository
Make your iPhone's iOS 14 to iOS 15 journey even better with Dynamic Stage jailbreak tweak. This cool multitasking upgrade is a game-changer. You can grab it from the Havoc Repository. Just add the Dynamic Stage Repository to your package manager, and you're good to go. Experience smoother multitasking and better workflow for only $3.99.
Discover how to install and activate the Dynamic Stage tweak on your jailbroken iOS device for a better and more personalized experience.
💡 Jailbreak Required
You must have a jailbroken device on a compatible iOS version to install and use this Dynamic Stage tweak.
Step 1: Open the Sileo app from your Home Screen.
Step 2: Tap on the "Sources" tab located at the bottom of the app. This is where you'll find all the repositories for various tweaks and modifications.
Step 3: In the upper right corner, tap on the "Edit" button. This allows you to manage your sources and add new ones.
Step 4: To install Dynamic Stage, you need to add a new repository. Enter the following URL:
🔰 Dynamic Stage Repo URL: https://havoc.app
Step 5: Once you've added the repository, search for "Dynamic Stage" using the search bar. When the package appears, tap on it to install it onto your device.
Step 6: After the installation is complete, it's important to apply the changes. Give your iPhone a "respring" by restarting it.
Step 7: With Dynamic Stage now installed, go to your Settings app. Scroll down and look for the section related to tweaks. Here, you'll find the option to enable Dynamic Stage. Toggle it on to activate the tweak.
Adding the Dynamic Stage repository to your preferred package managers, such as Cydia, Sileo, Installer, and Zebra, is a straightforward process that enables you to access the latest Dynamic Stage tweak enhancements.
Dynamic Stage Tweak iOS Compatibility
Dynamic Stage For iOS 15 – iOS 15, iOS 15.0.1, iOS 15.0.2, iOS 15.1, iOS 15.1.1, iOS 15.2, iOS 15.2.1, iOS 15.3, iOS 15.3.1, iOS 15.4, iOS 15.4.1, iOS 15.5, iOS 15.6, iOS 15.6.1, iOS 15.7, iOS 15.7.1, iOS 15.7.2, iOS 15.7.3, iOS 15.7.4, iOS 15.7.5, iOS 15.7.6, iOS 15.7.7, iOS 15.7.8.
Dynamic Stage For iOS 14 – iOS 14.0, iOS 14.0.1, iOS 14.1, iOS 14.2, iOS 14.2.1, iOS 14.3, iOS 14.4, iOS 14.4.1, iOS 14.4.2, iOS 14.5, iOS 14.5.1, iOS 14.6, iOS 14.7, iOS 14.7.1, iOS 14.8 and iOS 14.8.1.
Dynamic Peninsula Tweak For Get Dynamic Island To Notch
Dynamic Peninsula is an innovative jailbreak tweak designed to enhance the experience of notch iPhones operating on iOS 12 through iOS 16. Drawing inspiration from the Dynamic Island feature, this tweak brings the captivating effects of iPhone 14 Pro's dynamic island to all notched devices. Discover the fluid animations and enjoy the enhanced visuals on your iPhone X, iPhone XS, iPhone 11, and other compatible models.
DynamicCow IPA For Dynamic Island Without Jailbreak 
DynaicCow IPA serves as an alternative to Dynamic Island, functioning on iOS 16 to iOS 16.1.1 across all devices. By downloading and installing DynamicCow IPA, you gain access to Dynamic Island on your iPhone or iPad.
KFD Tweaks For get Dynamic Island
Discover a convenient way to access Dynamic Island through KFD Tweaks without the need for jailbreaking. Apps like Picasso Jailed and PurityKFD IPA bring you the benefits of Dynamic Island, enhancing your iOS experience.
Best Cydia And Sileo Sources Repos You Should Try
If you're delving into the world of iOS customization and tweaks, exploring various Cydia and Sileo sources can be incredibly beneficial. These repositories offer a treasure trove of tweaks, themes, and enhancements that can elevate your iOS experience. Here's a list of some of the best Cydia and Sileo sources you should consider trying.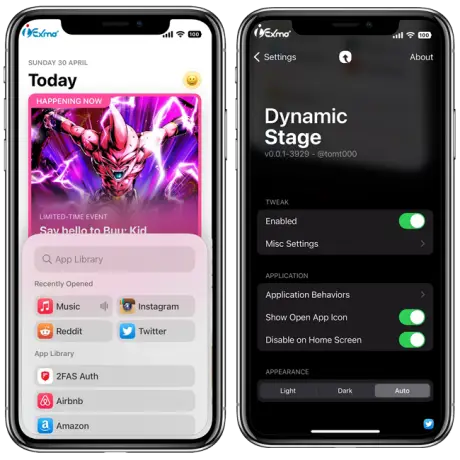 Dynamic Stage: Stage Manager Reimagined For iPhone
The iOS jailbreak community is abuzz with excitement over the game-changing tweak known as Dynamic Stage jailbreak tweak. This remarkable addition is revolutionizing multitasking on iOS devices by seamlessly integrating with the operating system and offering an unparalleled multitasking experience.
What Is Dynamic Stage?
Dynamic Stage has taken the iOS jailbreak scene by storm, and for good reason. This tweak introduces a beautifully designed multitasking interface for iOS devices, reminiscent of the beloved Stage Manager concept. Unlike its predecessors, Dynamic Stage jailbreak tweak is more than just a tweak – it's a harmonious fusion of design and functionality, breathing new life into the multitasking experience on iPhones and iPads. Notably, this tweak is fully compatible with iOS 14 through iOS 15, making it accessible to a wide range of users.
Seamless Integration and Customization:
Once you've successfully installed Dynamic Stage jailbreak tweak, a dedicated preference pane will seamlessly integrate into your iOS device's Settings app. Within this pane lies the power to tailor Dynamic Stage to your preferences. You have the authority to enable or disable the tweak, customize the behavior of installed applications (choosing between iPhone and iPad mode), deactivate it specifically on the Home Screen, and even modify the tweak's appearance.
Unlocking Multitasking Potential with iPad Mode:
One of the standout features of Dynamic Stage tweak is its support for iPad mode. When you launch an app from the SpringBoard in this mode, you'll experience dynamic resizing – a game-changer that eliminates the need for a complete app relaunch. This functionality empowers you to seamlessly use Split View and App Backgrounding, boosting your productivity. It's important to note, however, that not all apps universally support this feature, and occasionally, you might encounter glitches or unexpected behaviors. Experimentation might be necessary to determine whether a specific app supports iPad mode.
Effortless Split View Multitasking:
Dynamic Stage jailbreak tweak takes multitasking to the next level by allowing you to simultaneously run two independent apps in Split View on your device. With one app occupying the top portion of the screen and the other at the bottom, you can effortlessly manage tasks without the constant need for app switching. This jailbreak tweak streamlined approach enhances your workflow and productivity.
Navigating Dynamic Stage:
Accessing Dynamic Stage jailbreak tweak is intuitive – simply swipe up from the bottom right corner of your screen. From here, you can release your finger to launch the stage, or alternatively, drag it beneath your current app to initiate Split View. Once inside the stage, selecting an app ensures it remains active, even if you minimize the stage by dragging it down from the top. To close an app, a straightforward swipe up from the bottom right corner within the stage will suffice.
A Leap Forward in Multitasking:
While there have been previous attempts at multitasking tweaks, Dynamic Stage stands out as a remarkable achievement. This tweak not only delivers on its promise of a seamless multitasking experience but also aligns perfectly with the iOS aesthetic. It encapsulates the essence of how multitasking should look and feel on iPhones running iOS 14 to iOS 15, creating an authentic and immersive environment.
Compatibility and Jailbreak Support:
Dynamic Stage jailbreak tweak ensures accessibility for a broad range of users by offering support for both rootless and rootful jailbreaks. This includes well-known options like Palera1n, checkra1n, unc0ver, and Dopamine.
However, it's important to note that, as of the time of writing, the XinaA15 jailbreak is not yet supported by Dynamic Stage jailbreak tweak.
Dynamic Stage iOS multitasking tweak is more than a tweak – it's a transformative addition that redefines multitasking on iOS devices. Its elegant design, intuitive functionality, and compatibility with a variety of jailbreaks make it a must-have for anyone looking to supercharge their multitasking capabilities. Experience a new era of productivity and efficiency with Dynamic Stage.
How To Use Dynamic Stage Tweak
To launch Dynamic Stage jailbreak tweak, a simple swipe up from the bottom right corner is all you need. This intuitive gesture opens up a world of multitasking possibilities.
Release your finger to access the stage or effortlessly drag it beneath your current app to embrace Split View mode. The tweak even lets you customize each app's behavior, ensuring a tailored experience.
Customize your app launch preference with ease, allowing apps to open in iPad mode. Enjoy a dynamic resizing feature that eliminates the need for app relaunching, though sizing restrictions might apply to certain apps.
Navigating in and out of Dynamic Stage iOS multitasking tweak is a breeze. Pulling down from the top edge minimizes the stage, while a bottom-right swipe closes the active app within the stage.
Encounter an app that isn't in sync with Dynamic Stage? No problem. Disable its appearance in the app list for a smooth experience.
Dynamic Stage will exclusively cater to jailbroken iPhones, offering enhanced multitasking capabilities. Keep an eye out for its release, expected in about a week. Be prepared to invest $3.99 for its premium benefits.
Who Created The Dynamic Stage?
Dynamic Stage developed by iPhone jailbreak tweak designer Tom T.
Tom T. is also known for developing CopyLog, a popular clipboard manager for iPhones.
With Dynamic Stage, Tom T. brings his creativity to redefine multitasking on iPhones.
Dynamic Island: Apple's Impressive Innovation
Apple brought significant changes to the iPhone 14 Pro, revamping both its appearance and functionality.
A notable addition was the introduction of "Dynamic Island." Upon seeing it for the first time, I was genuinely amazed by its flawless execution. It not only operated seamlessly but also injected a unique personality into the phone.
The real game-changer for Apple was iOS 16. This update introduced a plethora of new features that elevated the iPhone's power and customization options.
The combined impact of the iPhone 14 Pro enhancements, iOS 16 innovations, and the upcoming iOS 17 showcases Apple's intent to excel not only in hardware but also to establish a wider gap in software experiences compared to its counterparts.
People still holding onto iPhone 11s, iPhone 12s, and iPhone 13s have missed the enchantment of Dynamic Island. Attempts to recreate this magic through design concepts and videos fall short.
Amid various design concepts, one stands out – Dynamic Stage. This feature essentially introduces a split-screen mode with captivating fluid animations, enhancing the iPhone experience.
What's New In Dynamic Island
Dynamic Island v1.0
The initial release of Dynamic Stage marks a significant advancement in iOS multitasking.