Blacklist IPA Download For iOS/iPadOS – No Revoke Install IPA Apps iOS Using MacDirtyCow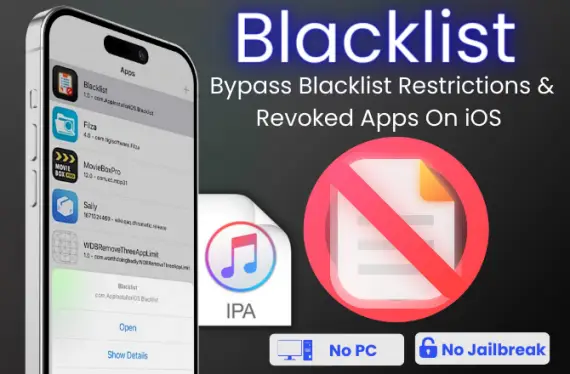 Blacklist IPA app for iOS is an innovative solution using the MacDirtyCow exploit to overcome blacklist limitations and revoked app restrictions on iOS 15 to iOS 16.1.2. With Blacklist IPA download, you can bypass obstacles and utilize sideloaded or banned applications from third-party App Stores on your iOS devices without the fear of revocation. Say goodbye to the frustration of encountering the "app is no longer available" message. By leveraging the MacDirtyCow exploit, the download Blacklist app removes revoked apps from the system blacklist, granting them the ability to run smoothly once again.
Download Blacklist IPA & Install Blacklist IPA With IPA Installer
Download Blacklist KFD IPA
Get the Blacklist IPA or Blacklist IPA KFD for your iOS device running iOS 15 to iOS 16.5.
Blacklist IPA Features
Unlock the potential of your apps with the download Blacklist IPA – a game-changing tool that liberates you from the confines of Apple's restrictions. Here's how the Blacklist IPA enhances your iOS app experience:
🔓 Enjoy Uninterrupted Access to Your Favorite Apps with Blacklist IPA: Do you want to use third-party apps that are not available on the App Store? Do you hate it when Apple revokes your personal certificate and blocks your access to these apps? If yes, then you need download Blacklist app IPA for iOS, a powerful tool that lets you bypass Apple's restrictions and use any app you want without interruption.
🚀 Sideloaded App Freedom: Blacklist IPA allows you to use sideloaded apps that require a personal certificate. These apps are usually revoked by Apple after a few days or weeks, making them unusable. But with Blacklist revoked IPAs without jailbreak, you can prevent this from happening and keep using your apps as long as you want.
⚡ Break App-Limitation Boundaries: Blacklist IPA also removes the app-limitation restriction that some IPA stores impose on you. For example, some IPA stores only let you run three apps at a time with your personal certificate. But with Blacklist IPA, you can run as many apps as you want without any limitation.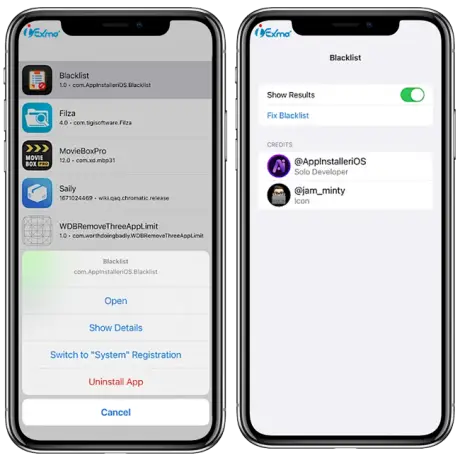 How To Download Blacklist IPA – MacDirtyCow Toolbox For iOS 15 – iOS 16.1.2
Download cracked the Blacklist IPA file is compatible with all non-jailbroken devices operating on iOS 15 – iOS 16.1.2, except for iOS 15.7.2 and iOS 16.2 or newer when using IPA installers.
If you're using jailed devices, you can effortlessly unblock private or enterprise-signed apps on iOS 15 to iOS 16.1.2. Just install the Blacklist IPA file using Sideloadly, and you're all set!
How To Install Blacklist IPA App iOS Without Jailbreak
Installing Blacklist IPA: Quick And Simple Guide
Unlocking your app potential with Blacklist app iOS free download without jailbreak is a breeze. Here's how you can install it based on your iOS version:
📲 iOS 14: Install the Blacklist app using TrollStore.
📱 iOS 15.0 – 15.4.1: Get the Blacklist app via TrollStore, AltStore, or Sideloadly.
📱 iOS 15.5 – 16.1.2: Use AltStore or Sideloadly to install the Blacklist app (excluding iOS 15.7.2 & 15.7.3).
🚫 iOS 16.2+: Unfortunately, Blacklist IPA still is not supported on these versions. You have the option to use KFD Blacklist IPA as an alternative.
How To Install Blacklist IPA on iOS 15 – iOS 16 With Sideloadly
Do you want to use Blacklist IPA, a powerful tool that lets you bypass Apple's restrictions and use any app you want without interruption? If yes, then you need to install it on your iOS device using Sideloadly, a simple and reliable app installer.
Step 1: Download Blacklist IPA from the link above and save it on your computer.
Step 2: Download and install Sideloadly on your PC or Mac.
Step 3: Connect your iPhone or iPad to your computer using a USB cable.
Step 4: Launch Sideloadly and drag and drop the Blacklist IPA file into the app window.
Step 5: Enter your Apple ID and password to sign the Blacklist IPA app with your personal certificate.
Step 6: Click the "Start" button and wait for Sideloadly to sideload the Blacklist IPA app onto your device.
Step 7: When the installation is complete, disconnect your device from the computer.
Step 8: Go to the Settings app > General > VPN & Device Management.
Step 9: Find the developer profile associated with your Apple ID and tap on it.
Step 10: Tap on "Trust" to allow the Blacklist IPA app to run on your device.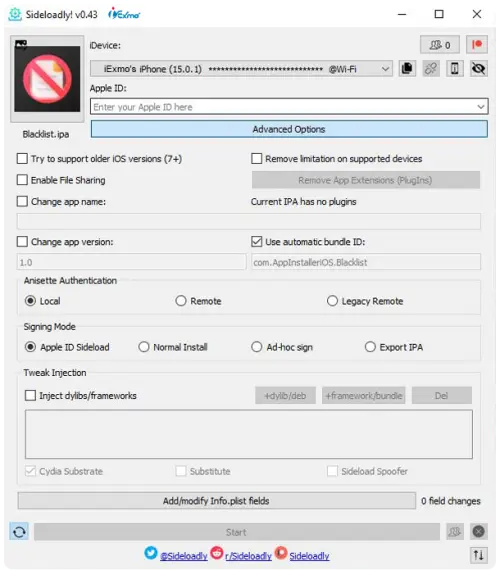 Blacklist MacDirtyCow IPA Supported iOS & iPadOS
✅ Blacklist IPA For iOS 16 – iOS 16, iOS 16.0.1, iOS 16.0.2, iOS 16.0.3, iOS 16.1, iOS 16.1.1, iOS 16.1.2
✅ Blacklist IPA Download iOS 15 – iOS 15, iOS 15.0.1, iOS 15.0.2, iOS 15.1, iOS 15.1.1, iOS 15.2, iOS 15.2.1, iOS 15.3, iOS 15.3.1, iOS 15.4, iOS 15.4.1, iOS 15.5, iOS 15.6, iOS 15.6.1, iOS 15.7, iOS 15.7.1, iOS 15.7.2, iOS 15.7.3, iOS 15.7.4, iOS 15.7.5, iOS 15.7.6, iOS 15.7.7, iOS 15.7.8.
✅ Blacklist IPA Download iOS 14 – iOS 14, iOS 14.0.1, iOS 14.1, iOS 14.2, iOS 14.2.1, iOS 14.3, iOS 14.4, iOS 14.4.1, iOS 14.4.2, iOS 14.5, iOS 14.5.1, iOS 14.6, iOS 14.7, iOS 14.7.1, iOS 14.8, iOS 14.8.1.
Blacklist IPA Compatibility Devices
iPhone 14, iPhone 14 Plus, iPhone 14 Pro, iPhone 14 Pro Max, iPhone 13, iPhone 13 Mini, iPhone 13 Pro, iPhone 13 Pro Max, iPhone 12, iPhone 12 Mini, iPhone 12 Pro, iPhone 12 Pro Max, iPhone 11 Pro Max, iPhone 11 Pro, iPhone 11, iPhone Xs, iPhone Xs Max, iPhone XR, iPhone X, iPhone 8, iPhone 8 Plus, iPhone 7, iPhone 7 Plus, iPhone 6S, iPhone 6S Plus, iPhone 6, iPhone 6 Plus, iPhone SE
Blacklist IPA: Revoked IPAs Without Jailbreak MacDirtyCow
Discover how the Blacklist IPA tool empowers you to bypass restrictions, revoked apps, and sideloaded limitations on iOS 15 to iOS 16.1.2, ensuring a seamless app experience on your iPhone or iPad.
What Is Blacklist?
Blacklist IPA is a cutting-edge solution that leverages the MacDirtyCow exploit, enabling you to effortlessly surpass blacklist constraints and gain access to revoked apps. Whether Blacklist IPA iPhone sideloaded or obtained from third-party App Stores, you can enjoy using these apps without the worry of revocation.
Once you've successfully installed the Blacklist IPA on your compatible device, accessing the app becomes a breeze through your Home Screen. Blacklist IPA cracked for iOS free download user-friendly interface simplifies the process of rectifying blacklisted apps. Note that this download Blacklist iPA for iOS/iPadOS tool isn't compatible with iOS 15.7.2 and iOS 16.2 or later.
Unlocking both personal and enterprise-signed apps is a primary function of the Blacklist app. This addresses the common issue where apps obtained from third-party stores become inaccessible due to certificate revocation. Blacklist MacDirtyCow exploit efficiently resolves this challenge, enabling you to continue enjoying these apps without any disruptions.
User testimonials highlight the Blacklist app Mod install for iOS effectiveness in unlocking not only enterprise-signed apps revoked by Apple, but also sideloaded apps using a personal certificate via AltStore. Additionally, alongside Blacklist IPA MacDirtyCow toolbox for iOS 15 – iOS 16.1.2, the WDBRemoveThreeAppLimit tool can be utilized to bypass the three-app limit when sideloading IPA files with a free Apple Developer account.
For those aiming to prevent app revocations and maintain uninterrupted access, blocking URLs like "http://ocsp.apple.com" and "http://ocsp2.apple.com" can halt iOS from downloading revocation files. By implementing this tactic, your device will perpetually recognize the app as unrevoked, ensuring a seamless experience.
Why Choose Blacklist IPA?
☑️ Experience smoother operations with a sleek and user-friendly interface.
☑️ Install with ease in just seconds, even without a PC, by utilizing the iExmo IPA store.
☑️ Enjoy effortless accessibility directly from your HomeScreen.
☑️ Rest assured, using Blacklist app iOS install won't void your valuable Apple Warranty.
Best Blacklist IPA Alternatives
Whitelist IPA For iOS
Whitelist IPA allows you to run revoked apps that were blacklisted by Apple, just like Blacklist IPA. Similar to Blacklist IPA, Whitelist IPA also leverages the MacDirtyCow exploit to achieve its purpose. Whitelist IPA is crafted by a different developer, offering you an alternative option to address revoked app issues.
Other MacDirtyCow IPAs Without Jailbreak
Discover the world of MacDirtyCow IPAs, a collection of powerful tools that bring remarkable customization to iOS devices without the need for jailbreak.
Explore the Latest MacDirtyCow App Jailbreak Tweaks 🚀
🧿 DynamicCow IPA: Unlock the iPhone 14 Pro's exclusive Dynamic Island feature on older iPhones running iOS 16 – iOS 16.1.2, all without the need for jailbreak!
🧿 Misaka Tweak Manager: Experience a Cydia alternative without the need for jailbreak, providing a seamless way to manage tweaks.
🧿 Cowabunga IPA: Modify various system settings related to Audio, Background blur, Shortcut banners, Passcode key importing, Changing device model name, and more, all without the hassle of jailbreaking.
🧿 FileSwitcherX: Customize the default system sounds of your iPhone effortlessly, without the requirement of jailbreak.
Easy Installation: Safely and swiftly install these MacDirtyCow IPAs from the iExmo IPA store. For more non-jailbreak apps and tweaks, check out dedicated No-jailbreak apps! Embrace a new level of iOS customization with MacDirtyCow IPAs.
Blacklist App And Remove 3 IPA Limit
Explore the possibilities of using the Blacklist app along with the option to remove the 3 IPA limit. Is it feasible with the KFD exploit? This combination is designed for iOS 16.2 – 16.5. However, it's important to note that even though AppInstalleriOS the developer of Blacklist and have dedicated hours to finding ways to eliminate Blacklists, the truth remains that Blacklist will not be able to remove the 3 app limit.
In cases where the Blacklist app might not fulfill your needs, consider looking into an alternative solution such as the WDBRemoveThreeAppLimit IPA.
Download Blacklist App Certificate For Signing On iOS 15 And iOS 16
Blacklist IPA for MacDirtyCow and KFD exploits to bypass iOS 15 and iOS 16.5 blacklist restrictions, granting you the freedom to enjoy third-party applications.
Blacklist IPA for iOS extends its support to a wide range of devices, from iPhone XS to iPhone 14, providing compatibility across various iPhone models. Whether you're on iOS 16.0 or iOS 16.5, Blacklist IPA ensures that you can break free from app restrictions and enjoy a seamless experience.
Blacklist IPA iOS 16
Blacklist IPA iOS 16 is an ingenious tool that leverages the MacDirtyCow and KFD exploits to bypass blacklist restrictions and revoked apps, providing you the freedom to run third-party apps without the fear of revocation on iOS 15 through iOS 16.
With Blacklist IPA download iOS 16, apps revoked based on MacDirtyCow or KFD exploits are removed from the system blacklist, enabling them to run smoothly.
Blacklist KFD was recently launched with full support for iOS 16 – iOS 16.5 on arm64e devices, opening up new possibilities for sideloading enthusiasts. Blacklist iOS install MDC tool is not compatible with iOS 15.7.2 and iOS 16.2 onwards. For users on the latest firmware, installing Blacklist KFD is the recommended choice to enjoy the benefits.
How Fix "Unable to Verify App" For Blacklist KFD | Un-Verify Blacklist KFD
Learn how to tackle the "Unable to Verify App" issue with Blacklist KFD. Follow these steps to un-verify and unleash Blacklist KFD's power.
Step 1: To get started, you must install the Blacklist KFD IPA using Sideloadly. Be patient; this process may take some time.
Step 2: Once the Blacklist KFD IPA app is downloaded through Sideloadly, access the Blacklist app configuration. Enable the speed mode option to expedite the process.
Step 3: Enter the Blacklist KFD IPA app and click on the "Exploit" button. It's recommended to do this while in airplane mode for smoother results.
Step 4: After 20-40 seconds, click "Finish." You shouldn't encounter any "Failed" messages. However, if you see "Reboot, try again," simply restart your device and follow the same steps. It's bound to work smoothly!
Who Create Blacklist IPA App
AppInstaller iOS, the mastermind behind innovative apps like Blacklist IPA, has harnessed the power of MacDirtyCow to bring you a groundbreaking solution for accessing revoked iOS apps. Their impressive portfolio also includes apps like BlizzardBoard, TrollSign, TrollInstall, TrollInstaller 14, Prefs Changer, CCEnabler, Control Center++, and more. With a track record of delivering handy tools for iOS users, AppInstaller iOS is dedicated to enhancing your iOS experience.
What's New In Blacklist IPA
Blacklist IPA v1.0 KFD Update
The release of Blacklist IPA optimized for KFD.
Expanded compatibility to include iOS 16.0 – iOS 16.5 on arm64e devices.
Introduction of a new speed mode for improved performance.
Blacklist IPA v1.0
Blacklist App Update: Version 1.0
Refreshed app icon for a polished look.