Picasso IPA Download For iOS 16.2 – iOS 16.6 On A12+ Devices [Mandela Pro]
Picasso IPA is a powerful iOS customization tool that allows users to personalize their devices by hiding the Home screen dock, modifying sound effects, and more. The integration of the KFD exploit, including in Cowabunga IPA apps like Picasso all-in-one UI customization app, brings the KFD Toolbox functionality to iOS 16 – iOS 16.6, unlocking system customization options.
Download Picasso IPA: KFD Toolbox For iOS 16 – iOS 16.6
Picasso IPA Jailed Toolbox Application: iOS 16.2+ Customization And Tweaks Without Jailbreak!
Current Picasso IPA Features:
Picasso IPA is ultimate toolbox app compatible with all arm64e devices on iOS 16.0 – 16.5 and 16.6b1, utilizing the KFD exploit, all without the need for a jailbreak.
🏝️ Dynamic Island on any device: Experience the magic of Dynamic Island on all compatible iOS devices, bringing life and vibrancy to your Home Screen.
🎨 Springboard Tools: Customize your device's appearance with ease! Adjust Dock color, Folder background color, Control Center background color, Notification banner background color, and Notification shadow color to match your style.
🖋️ Custom System-wide Fonts: Stand out from the crowd by choosing your own system-wide fonts and enjoy a unique and personalized iOS experience.
👁️ Custom Face ID Lock Icon Animation on Lock Screen: Add flair to your Lock Screen by customizing the Face ID lock icon animation, making your device truly your own.
⚙️ Settings App Customizer: Tweak and fine-tune your device's Settings app to suit your preferences and workflow.
🔊 Audio Customizer: Personalize charging, screenshot, lock, notification, and other sounds with the audio customizer feature, and more.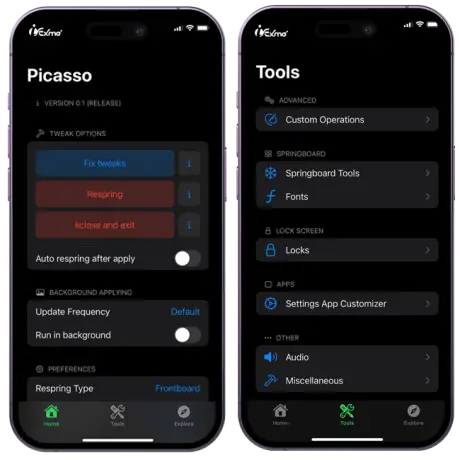 How To Install Picasso IPA No Jailbreak
Picasso IPA can be easily sideloaded onto your iPhone using IPA installers like Sideloadly, which is compatible with both Windows and macOS, or SideStore, an on-device IPA signing tool for iOS 16.
These methods enable you to install Picasso IPA on non-jailbroken devices, providing iOS customization options without the need for a jailbreak.
If you don't have a developer certificate, you can still use your free Apple account to sign and install Picasso IPA, allowing you to use it for up to 7 days before needing to re-sign.
You can sideload the Cowabunga Picasso IPA using TrollStore on iOS 15 to iOS 15.4.1, providing iOS customization options without the need for a developer account.
How To Install Picasso IPA On iOS Using Sideloadly
Learn how to easily install Picasso IPA on your iOS device using the Sideloadly app with this comprehensive step-by-step guide.
Step 1: Download the Picasso IPA file to your computer.
Step 2: Launch the Sideloadly application on your PC or Mac.
Step 3: Connect your iPhone or iPad to the computer using a USB cable.
Step 4: Load the downloaded Picasso IPA file into the Sideloadly app to initiate the installation process.
Step 5: Provide your Apple ID credentials to sign the Picasso IPA file.
Step 6: Click the "Start" button to begin the sideloading process of the Picasso IPA onto your iOS device.
Step 7: When prompted, enter your Apple ID password for verification.
Step 8: On your iOS device, go to the Settings app from the Home Screen.
Step 9: Navigate to "General" > "VPN & Device Management."
Step 10: Locate and select the developer app associated with your Apple ID email.
Step 11: Tap "Trust" to authorize the app to run on your device.
How To Install Picasso IPA With AltStore
Easily install Picasso on your iOS device with this comprehensive step-by-step guide using AltStore. Learn how to keep Picasso installed without jailbreak using AltStore's re-signing method.
Step 1: Download the latest Picasso IPA file to your iOS device.
Step 2: Open the AltStore app on your device and navigate to the "My Apps" tab.
Step 3: Tap on the plus "+" icon at the top of the screen, then browse and select the Picasso.ipa file that you downloaded.
Step 4: If this is your first time using AltStore, you will be prompted to enter your Apple ID and password. AltStore requires this information to sign the app for installation. It is recommended to use a burner Apple ID for added security.
Step 5: The Picasso app installation will commence, and once completed, you can access it from the "My Apps" tab or your Home screen.
Please note that using this method, you will need to re-sign the app every 7 days to keep it functional. To do this, go to the "My Apps" tab in AltStore and tap the "X days" button next to the Picasso app to begin the re-signing process. Make sure to re-sign the app before it expires to avoid any interruptions. If it expires, you will need to repeat the entire installation process
Picasso IPA App Compatibility
All arm64e devices are fully supported.
iOS versions 16.0, 16.1, 16.2, 16.3, 16.4, and 16.5 are fully compatible with Picasso.
The latest beta version, iOS 16.6 beta 1, is also supported for a seamless experience with Picasso's features and functionalities.
Picasso IPA App Supported iOS versions:
iOS 16.0 – iOS 16.5
iOS 16.6 beta 1
Picasso IPA App Supported Devices:
iPhone 14 / iPhone 14 Plus / iPhone 14 Pro / iPhone 14 Pro Max
iPhone 13 / iPhone 13 mini / iPhone 13 Pro / iPhone 13 Pro Max / iPhone SE (3rd gen)
iPhone 12 mini / iPhone 12 / iPhone 12 mini / iPhone 12 Pro / iPhone 12 Pro Max
iPhone 11 / iPhone 11 Pro / iPhone 11 Pro Max / iPhone SE (2nd generation)
iPhone XR / iPhone XS / iPhone XS Max
Why Is Picasso More Special?
✅ Picasso IPA is a revolutionary iOS customization tool compatible with iOS 16.0 up to iOS 16.5 and iOS 16.6 Beta 1, catering to all arm64e devices iOS devices.
✅ Built as a Cowabunga alternative, Picasso IPA iOS utilizes a fork of the latest KFD jailbreak exploits, successfully emulating MacDirtyCow functionalities on iOS 16.2 and newer versions.
✅ With Picasso IPA jailed customization toolbox, A12+ device users can enjoy a vast array of features,
✅ Picasso IPA can install themes, custom icons, custom fonts, animations, and tweaks, all without the need for a jailbreak.
✅ Picasso IPA for iOS is a streamlined version reminiscent of pre-v8 Cowabunga, lacking a full sandbox escape, though a partial one is imminent.
✅ This Picasso IPA IPA tool offers a seamless and secure way to personalize your iOS experience, bringing enhanced system customization within your reach.
Picasso IPA – Experience Cowabunga Customization On iOS 16.2 – iOS 16.6 For A12+ Devices
Remember the popular Cowabunga IPA application that utilized the MacDirtyCow exploit to offer customization options for iOS 14.0 up to iOS 16.1.2 on all devices? Unfortunately, Cowabunga was patched in iOS 16.2, leaving users without this beloved tweaking and theming platform.
➤ Cowabunga IPA: MacDirtyCow Toolbox for iOS 14 – iOS 16: Cowabunga IPA was a remarkable platform that allowed users to personalize their iOS experience without the need for jailbreaking. It provided customization options for home screen icons, sounds, fonts, notification banner colors, passcode keys, carrier names, and much more.
➤ The Arrival of Mandela Pro: Developers @sourcelocation and @bomberfish77 are currently working on Picasso IPA, which is a fork of Cowabunga. This new version will support iOS 16.2 up to iOS 16.5 and iOS 16.6 Beta 1 on all devices, including the latest iPhone 14 and iPhone 13 models.
Mandela Pro has undergone a remarkable transformation and emerged as Picasso, now offering even more powerful iOS customization capabilities
➤ Powered by KFD Exploit: Thanks to the KFD exploit, released by @p0up0u, and a fork that enables file overwrites on the device, Picasso IPA becomes possible.
➤ Enhanced Customization for Newer iOS Versions: With the upcoming release of Picasso IPA, users will once again be able to enjoy Cowabunga's extensive range of tweaks and themes on iOS 16.2 and newer versions on iPhone, iPad Or iPod. This offers an exciting customization experience while awaiting a full jailbreak solution.
KFD Jailbreak Exploit With Picasso iOS Customization Tool
Just recently, the talented developer @p0up0u made a significant contribution to the jailbreak community by releasing an essential open-source project.
➤ The KFD Project: The newly introduced KFD project comprises two crucial kernel vulnerabilities that are compatible with iOS versions ranging from 15.0 up to iOS 16.5. It also includes corresponding exploits and writeups, catering to individuals interested in iOS Security Research.
With the unveiling of these kernel vulnerabilities and exploits, the jailbreak community now possesses a vital piece of the puzzle required for the development of the next jailbreak tool.
If your iOS device is running iOS 15.0 up to iOS 16.5, or even iOS 16.6 Beta 1, there is a high likelihood that a jailbreak solution will soon be available thanks to this release.
While the kernel exploits mark a significant step forward, it's essential to note that they are not sufficient on their own to achieve a complete jailbreak. However, the dedicated jailbreak community is actively working on developing a PPL (Platform Profile Layer) bypass, which is a critical component for a successful full-fledged jailbreak. The collective efforts aim to bring a comprehensive jailbreak experience to users.
What Is Picasso IPA?
Picasso IPA is a powerful tool that grants you access to hidden system settings on iOS versions 14 to 16.6. Utilizing the KFD exploit, this application enables easy customization without a full jailbreak.
Once installed, Picasso IPA will be readily accessible from your iPhone's Home Screen. To apply new settings, a quick respring of your device is required, which can be conveniently done through the app.
With Picasso IPA SpringBoard Tools, you have a plethora of options to personalize your device's appearance and sound effects. Customize features such as hiding the dock, disabling background and blur effects, and changing audio files for various actions.
The latest release of Picasso IPA introduces an enhanced user interface and a range of new features. Among them are a device model name changer, a custom audio importing feature with playback previews, and notifications for background app termination. Picasso is a toolbox application that offers a one-time price of $5.95.
Advantages Of Cowabunga And Picasso IPA Over Full Jailbreak
Cowabunga IPA and Picasso IPA are unique applications that offer advanced UI customization and theming capabilities, but it's essential to clarify that they are not traditional jailbreaks. Instead, they utilize jailbreak exploits to bring various customizations to the device without fully jailbreaking it.
PROs Of Cowabunga / Picasso IPA:
✅ Extensive Device Support: Cowabunga and Picasso IPA cater to a wide range of iOS devices, running from iOS 14.0 up to iOS 16.6 Beta 1. However, please note that they do not support iOS 16.5.1 and iOS 16.6.
✅ Stealthy Jailbreak Detection: These apps cleverly evade Jailbreak Detection in various applications, ensuring seamless access without triggering any alerts or restrictions.
✅ Theme Installation and UI Tweaks: Cowabunga and Picasso IPA allow users to apply themes and implement certain UI tweaks, enhancing the visual appeal and personalization of their iOS devices.
✅ All-in-One App: A key advantage of Cowabunga and Picasso IPA iOS is that they consolidate all available tweaks and themes within a single app, eliminating the need to rely on multiple repositories.
✅ Free and Open-Source: Both Cowabunga and Picasso IPAare freely available and open-source, embracing the collaborative spirit of the jailbreak community.
CONs of Cowabunga / Picasso IPA:
⚠️ Limited Tweaks: While these apps offer some customization options, they may not match the extensive range of tweaks available through a full-fledged jailbreak.
⚠️ Periodic App Re-Signing: To maintain functionality, users need to re-sign the app every 7 days with a free developer account, which can be considered a minor inconvenience.
⚠️ Partial Theme Application: In certain cases, themes may only apply partially, requiring a reboot to rectify the issue and achieve full customization.
⚠️ Tweak Limitations: Due to exploit constraints or implementation factors, some tweaks may not be feasible, limiting the extent of customization achievable.
⚠️ Limited Default Themes: While Cowabunga and Picasso IPA offer a selection of themes, the default options may be limited compared to a full jailbreak's wide-ranging theme choices.
Cowabunga and Picasso IPA lies in their ability to evade jailbreak detection in apps, allowing users to enjoy the benefits of jailbreak tweaks without app restrictions. This makes them a preferred choice for many users who require a more flexible jailbreak experience.