iOS 17 Sideloading – Best IPA Installer For iOS 17 | iOS 17 Jailbreak [Latest]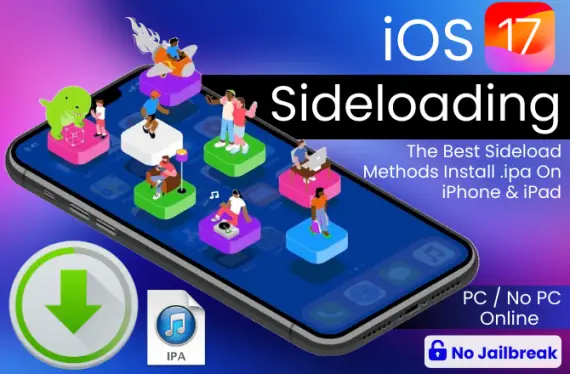 Are you in search of a reliable method to sideload IPA files on your iOS 17 device? Look no further – the IPA Installer for iOS 17 is your solution. These user-friendly iOS 17 sideloading tools are compatible with both Windows and macOS, offering a robust alternative to Cydia Impactor. The best part? iOS 17 Sideloading support to both jailbroken and non-jailbroken devices, making it the go-to choice for installing .ipa files on your iPhone or iPad running iOS 17. Discover the best sideload methods for iOS 17 below.
Best IPA Installer Apps For iOS 17
01. Sideloadly IPA Installer For iOS 17
Sideloadly, your trusted IPA installer for iOS 17, is here to simplify the way you sign and sideload apps and games on your iOS 17 device. Whether you're running iOS 17, iOS 17.0, iOS 17.0.1, iOS 17.0.2, or even the iOS 17.1 beta, Sideloadly is fully compatible with Windows and Mac. This versatile software operates seamlessly with a free certificate, empowering users to install third-party or modified apps effortlessly over Wi-Fi.
No longer do you need to rely on jailbreaking your device, as Sideloadly emerges as a reliable alternative to AltStore. It ensures that you can sideload IPAs onto your iPhone or iPad, regardless of your device's jailbreak status. Notably, Sideloadly stands out for its unwavering support for the latest iOS 17 versions, all while maintaining compatibility with iOS 7 and beyond. For Windows users, please keep in mind that iTunes installation is a prerequisite.
Here's what makes Sideloadly your top choice:
✅ No Jailbreak Required: Sideloadly caters to non-jailbroken devices, making it accessible to a wide user base.
✅ Free or Paid Apple Developer Account: Enjoy the flexibility of sideloading with either a free or paid Apple Developer account.
✅ iOS 17 Compatibility: Sideloadly extends its support from iOS 7 and stretches all the way up to iOS 17.1+.
Discover why Sideloadly is a popular selection for IPA installation using your Apple ID, complete with a 7-day free certificate. While it boasts unique features, the app's core relies on open-source technology akin to AltStore and AltServer. Advanced users can capitalize on the tweak injection feature, enabling the injection of multiple file types, including .dylib, .deb, .framework, and .bundle files, into their IPA. Sideloadly seamlessly cooperates with Cydia Substrate, Substitute framework, and non-jailbroken devices.
Ready to embark on the journey of seamless app sideloading on iOS 17? Let's get started!
How to Install Sideloadly for iOS 17 on Mac »
How to Install Sideloadly for iOS 17 on Windows »
02. AltStore IPA Installer For iOS 17
AltStore is a specialized app store created for iOS 17 sideloading, providing users with a seamless experience. AltStore and AltServer have recently received updates to support iOS 17 and macOS Sonoma, ensuring compatibility with the latest operating systems.
A standout feature of AltStore for iOS 17 is AltJIT, enabling sideloaded apps to benefit from just-in-time compilation. While iOS 17 and iPadOS 17 traditionally do not allow JIT compilation, AltStore has devised a workaround, allowing apps to run significantly faster.
Some apps that were previously unable to run without JIT can now function smoothly, thanks to this ingenious feature.
The synergy of AltServer iOS 17 and AltStore iOS 17 provides a unified, user-friendly sideloading experience that iOS 17 enthusiasts will love. AltStore's latest updates ensure compatibility with the latest iOS 17 versions but also introduce new AltJIT features that enhance the performance of sideloaded apps on iOS 17.
How to Install AltStore for iOS 17 on Mac »
How to Install AltStore for iOS 17 on Windows »
03. TrollStore 2 IPA Installer For iOS 17.0
TrollStore 2 (TrollHelper) is your solution for signing and installing IPA files without revokes on iOS 15.6 to 16.5 (A8-A17), 16.5.1 to 16.6.1 (A8-A11), and iOS 17.0 (A8-A11). Enjoy a revoke-free experience without the need for jailbreak. Easily install TrollStore 2 using TrollHelper directly from your iPhone.
TrollHelper 2 is designed to seamlessly install various iOS 14, iOS 15, and iOS 17 apps, including iPogo, AppStore++, SpooferX, uYou, Delta, Filza, and many more.
🔰 Download the best TrollStore 2 Apps
🔰 Official TrollStore IPA Apps
🔰 How to Install TrollStore 2 for iOS 17
04. Esign IPA Installer For iOS 17
Esign is a powerful IPA installer application designed for iOS devices running versions 15 through iOS 16, offering users the capability to sign apps with either their personal certificates or globally accessible certificates.
The primary function of Esign is to sign IPA files and facilitate their installation on your iPhone or iPad. Although Esign currently supports iOS 15 through iOS 16, there are hopes for its compatibility with iOS 17 sideloading in the near future.
To sign IPA files using Esign, the application directly utilizes p12 certificates and mobileprovision files on your iOS device. Esign also provides access to globally available certificates, frequently employed by various third-party app stores. However, it's important to note that certificates from such sources may be subject to revocation on short notice.
For added convenience, Esign has the capability to install IPA files in a manner that prevents revokes, ensuring a more permanent installation experience. Furthermore, Esign offers an alternative option for IPA installation without the need for jailbreaking, leveraging the TrollStore source code.
Sideload and Sign Apps with Esign on iOS 17 »
4. Sidestore IPA Installer For iOS 17
Sidestore is a robust IPA installer application designed for iOS devices, particularly focusing on iOS 15 through iOS 16. It's essentially a fork of AltStore, enabling you to effortlessly sign and install IPA files directly on your iPhone, eliminating the need for AltServer and a computer.
The iOS 17 compatibility of Sidestore brings a multitude of advantages. You have the freedom to install a wide array of apps, both from the standard sources and the numerous options available in trusted repositories.
A significant feature of Sidestore for iOS 17 free is the in-app JIT (Just-In-Time) enabler, which empowers you to engage with hardware-accelerated iOS 17 games, iOS 17 emulators, and a myriad of other applications that require JIT.
Sidestore for iOS 17 adopts a clever technique for installing IPA files on your device. Sidestore for iOS 17 employs a specially designed VPN to deceive iOS into accepting and installing these apps.
Among its notable capabilities, Sidestore for iOS 17 allows you to deactivate installed apps and switch between them, offering a remarkable flexibility of up to 10 apps without encountering the usual three-app limit.
Recently, the developer encountered an issue where the Sidestore for iOS 17 download on-device signing method ceased to function on iOS 17. After conducting experiments, it was discovered that the root cause of this issue was the jitterbugpair file. As a resolution, users are advised to uninstall Sidestore and follow the configuration process anew. The crucial step is creating a new jitterbugpair file, a requirement stemming from the iOS 17 update. Notably, the Wideguard configuration remains unchanged, ensuring that Sidestore can continue to be utilized on iOS 17, just as it was on iOS 16.
5. iOSGods IPA Installer For iOS 17
iOSGods is a versatile IPA installer application compatible with iOS devices ranging from iOS 15 to iOS 16. It facilitates the download and installation of a diverse array of applications and games. Notably, iOSGods IPA Installer is actively working to introduce support for iOS 17 in the near future.
Beyond merely offering alternative download links for official applications, iOSGods provides access to modified versions of apps and hacked editions of popular iOS games. This feature-rich store accommodates a broad spectrum of iOS versions, encompassing iOS 15 and iOS 16.
With the iOSGods IPA downloader, users are presented with a multitude of installation options for IPA files associated with applications and games. Among these options is the ability to directly download IPA packages that contain apps, streamlining the installation process directly onto your iOS device.
iOSGods is your dedicated destination for a No-Jailbreak App Store experience, tailored specifically for Non-Jailbroken devices. Enjoy hassle-free access to the latest Tweaked, Hacked, and Modded Apps courtesy of iOSGods Jailed App.
iOSGods No Jailbreak App Store »
6. 3uTools iPhone Helper For iOS 17
3uTools for iOS 17 emerges as a valuable iPhone Helper application, brought to you by the same team that developed i4Tools. 3uTools for iOS 17 free download delivers a comprehensive suite of features akin to its Chinese counterpart, the iPhone Assistant, with a notable distinction – it's accessible in English.
This 3uTools for iOS 17 free download versatile tool empowers you to manage your files, effortlessly download applications and wallpapers, perform iOS firmware flashing, and even explore the world of jailbreaking, all within a user-friendly English interface.
Notably, 3uTools for iOS 17 free download excels in its ability to facilitate the installation of IPA files on iOS devices ranging from iOS 15 to iOS 16. This impressive functionality is made possible by harnessing the open-source technology of AltStore and AltServer to digitally sign applications.
Are you in search of a dependable solution for your iOS 17 device? The answer is yes. 3uTools for iOS 17 free download extends its support to iOS 17, iOS 17.0, iOS 17.0.1, iOS 17.0.2, and even the iOS 17.1 beta. This ensures compatibility and accessibility across a wide range of iOS versions.
7. i4Tools Download For iOS 17
The i4Tools IPA installer is now compatible with iOS 17 Sideloading, offering enhanced features and functionalities. i4Tools for iOS 17 is the latest upgrade for iTools, introducing a more user-friendly and realistic interface.
With the new i4Tools iOS 17 version, users can seamlessly transfer music, videos, photos, contacts, messages, and other data between their computers and iPhones. i4Tools is now compatible with all iOS 17 devices, including the latest iPhone 15, iPhone 14, and previous iOS versions. Experience the benefits of i4Tools iOS 17 by downloading it to your devices today.
Discover The Best iOS 17 Sideload Methods For Installing .ipa Files On iPhone & iPad!
Download Best iOS 17 – iOS 17.0.3 Tweaks
Experience iOS 17 Sideloading with Tweaked IPAs, which are modified versions of iOS apps that enhance functionality. The iTweaked App Store is your portal to a vast collection of these enhanced iOS 17 apps and iOS 17 games, not available on the official App Store. Explore premium features, including iOS 17 hacks, iOS 17 emulators, and ++tweaks, all compatible with the latest iPhone models such as iPhone 14, iPhone 13, iPhone 12, and iPhone 11. Unlock a world of possibilities through iOS 17 sideloading.
Download Best IPAs For iOS 17 | Tweaked App Stores For iOS 17.0.2 – iOS 14
Looking for the finest app stores to download tweaked or modded apps for iOS 17? You've come to the right place. Tweaked apps aim to enhance the performance or improve the quality of applications on iOS 17 devices, much like modded apps on Android.
These tweaked app stores for iOS 17 provide modified versions of original iOS apps, offering users a unique and enhanced experience.
If you're an iOS 17 user seeking customization and additional features, these tweaked app stores are your go-to destinations. Enjoy a variety of tweaked and modded apps tailored to your preferences with the help of these iOS 17 app stores.
List of Best Tweaked App Stores for iOS 17 »
iOS 17 Sideloading Support
iOS 17 is on the horizon, and a significant change is coming. Thanks to the Digital Markets Act (DMA) law in the European Union (EU), Apple is now legally obliged to support sideloading.
While Apple hasn't made an official announcement yet, the clock is ticking. They have six months to introduce sideloading to iOS 17 and potentially extend it to older iOS versions. Failure to do so could result in substantial fines.
The European Commission has identified certain companies and apps/services as gatekeepers. Among them, iOS, the Safari browser, and the App Store fall under this category. Apple must align these products with DMA rules within the given timeframe.
What does this mean for iPhone and iPad users in the EU? Soon, they will have the freedom to explore third-party app stores, use alternative payment systems, and enjoy the benefits of sideloading.
iOS 17 sideloading support is coming, and Apple can't prevent it!
How To Jailbreak iOS 17 with Or Without A Computer?
Jailbreaking iOS 17 opens up a world of possibilities for Apple device enthusiasts. Discover the numerous benefits of Jailbreaking iOS 17, including access to third-party apps and customizations.
Keep up with the latest updates on the Jailbreak iOS 17 status to ensure a smooth experience. Learn about the various methods for sideloading on iOS 17 and how it can enhance your device's functionality.
Latest iOS 17 Jailbreak Tools and Solutions »
How Does the DMA Compel Apple to Embrace Sideloading on iPhone?
The Digital Markets Act (DMA) has laid down a set of rules that will compel Apple to bring sideloading to iPhones. While Apple hasn't made an official announcement yet, the DMA's provisions are clear. Within the next six months, if Apple doesn't introduce sideloading, it may face substantial fines.
Under the DMA, the EU has designated six companies and 22 services as gatekeepers. These gatekeepers must adhere to several key points:
They must allow users to easily uninstall pre-installed apps or change default settings that push them towards the gatekeeper's products.
Users should have the freedom to install third-party apps or app stores that work with the gatekeeper's operating system.
Subscribing and unsubscribing from the gatekeeper's core platform services should be equally straightforward for users.
Third parties must be able to interoperate with the gatekeeper's services.
Business users should have access to the data generated by their activities on the gatekeeper's platform.
The gatekeeper cannot force app developers to use its services to appear in its app stores.
With these designations, the EU is paving the way for sideloading on iPhones, especially in EU member states. It's expected that Apple will integrate this feature into iOS 17 in response to the DMA's requirements.
iOS 17 Sideloading And Third-party App Stores
Apple is facing pressure to make significant changes in iOS 17. These changes may include allowing developers to promote their businesses and establish contracts outside the App Store, enabling users to purchase digital services or apps through methods other than the official platform.
iOS 17 is expected to provide support for competing app stores, alongside the ability to download iPhone and iPad applications from various sources through sideloading.
Additionally, the implementation of the Digital Markets Act (DMA) is likely to enforce support for third-party payment systems within iOS 17, ensuring a more open and competitive app ecosystem.
The DMA Impact: Will Apple Embrace Change in iOS 17?
Apple faces a crucial decision regarding iOS 17 in response to the Digital Markets Act (DMA). While it could choose to ignore the DMA's regulations, it would expose itself to substantial fines, starting at 10% of its annual turnover, potentially amounting to tens of billions. Repeated offenses could incur fines of up to 20% and even more severe measures, such as business divestitures or acquisition restrictions, imposed by the EU.
Apple has historically resisted sideloading apps, but it recently indicated its willingness to comply with EU regulations. However, it has not provided specific details on when users can expect sideloading support to be introduced in iOS 17.
In response to the EU's announcement about gatekeepers, Apple expressed concerns about privacy and security risks associated with the DMA. Nevertheless, Apple implied that it would make necessary changes to address these concerns, emphasizing its commitment to providing high-quality products and services to its European customers.
Frequently Asked Questions About Sideloading On iOS 17
Will iOS 17 get sideloading?
Absolutely! iOS 17 is gearing up to embrace sideloading, granting users the freedom to download and install apps from various sources. Get ready for a more versatile iOS experience!
Is the EU forcing Apple to allow sideloading?
Indeed, the EU's Digital Markets Act, enacted in November, is paving the way for Apple to embrace sideloading, starting in March 2024. It's a positive step towards more choice and flexibility for users.
Is sideloading available on iOS?
Absolutely, since the release of iOS 13 in 2019, iOS and iPadOS users have had the option to sideload apps, offering a world of possibilities and customization.
What is the 3rd party app store jailbreak?
The 3rd party app store jailbreak, often referred to as IPA Store, opens up exciting avenues for iOS 17 users. It allows access to official app stores and even paid apps for free, making your app experience more delightful.
Why does Apple hate sideloading?
Apple's concerns about sideloading stem from its commitment to user security and privacy. While change can be challenging, it's rooted in protecting your digital well-being.
Why did Apple ban sideloading?
Apple's stance against sideloading is about safeguarding device security and ensuring apps meet stringent quality standards. It's a commitment to providing you with the best possible app experience.
Is iOS 17 beta stable?
The iOS 17 developer beta, now in its eighth iteration, is maturing into a more stable and refined version. It's a testament to Apple's dedication to delivering top-notch software.
Will iOS 17 have third-party apps?
While iOS 16 and now 17 primarily distribute software through the App Store, there's exciting news on the horizon. Apple is exploring avenues to introduce third-party apps, offering you even more choices.
Is sideloading risky?
While sideloading presents certain risks, staying informed and sourcing apps from reliable platforms like the IPA Store can ensure a safe and enjoyable experience.
Is sideloading an app illegal?
Sideloading doesn't typically come with legal restrictions, offering you the freedom to explore a wide range of content.
Is sideloading safe for iOS 17?
With iOS 17, Apple may introduce enhanced security measures, making sideloading a safer option. Get ready to explore a world of possibilities with peace of mind.
Is sideloading a jailbreak?
Sideloading apps from unofficial sources isn't akin to jailbreaking. It's an exciting way to customize your device without compromising its security.
Is sideloading good?
Sideloading can empower you with more choices and flexibility. By exercising caution and sticking to trusted sources, you can enjoy a richer app experience.
Will Apple allow 3rd party apps?
In a positive turn of events, Apple is considering allowing third-party stores and direct installations of apps. It's a forward-looking approach that promises more options for users like you.